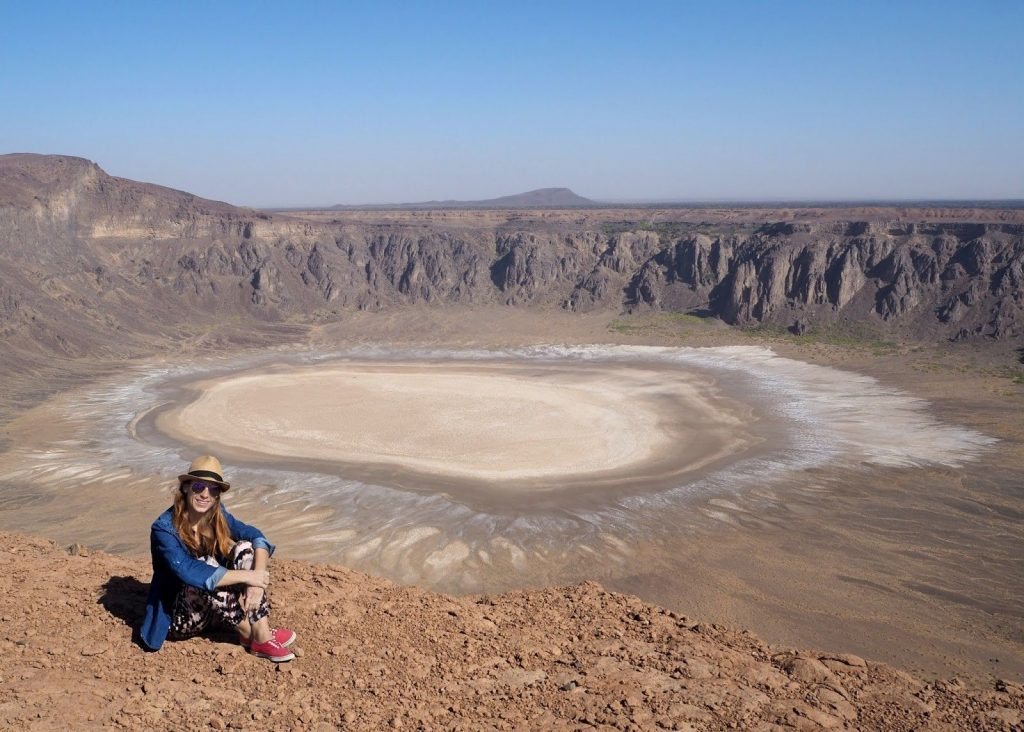 Schedule:
Everyday
Tour Highlights:
11 Days Riyadh, Edge of the world, Al Qassim, Hail, Jeddah & Taif.
Day 1: Arrival to Riyadh
Your tour leader/driver will be waiting you. They will be holding a sign of SaudiArabiaTours , You do not need to look for them – they will be waiting for you and will find you.
From the moment your tour starts, your tour leader will give you full attention. Once in the car, He will talk to you about all the things on the way as well as other aspects of your tour that will interest you.
You will be transferred by an A/C car to your hotel.
Overnight in Riyadh
(Optional) Riyadh By Night Tour
Day 2: Riyadh Historical Tour
Breakfast.Start your tour visiting the National Museum of Saudi Arabia which has been established in 1419 as a significant part of the king Abdulaziz historical center in Riyadh. Very impressive and important museum about the entire Saudi history, Saudi royal family, the kingdom formation, and everything regarding the political context. you will be led to numerous antiques, manuscripts, and documents that are all chronologically organized. It includes eight main halls: Hall of Man and the Universe, Arab Kingdoms, Pre-Islamic Era, Prophet's Mission, First Saudi State, Unification of the Kingdom Hall & Hall of Hajj and Two Holy Mosques.
The museum includes interesting examples of Arabian and Islamic art as well as architecture. The masterpieces include Prehistoric Elephant Skeleton, huge meteor found in the Empty Quarter in Saudi Arabia desert, Rock Grafitti from Hejaz region backdate to pre Islamic era, Copy of Rosetta stone, an example of Madaian Salah Rock-cut tombs.
Then enjoy the National museum park walks through the outdoor gardens one of the best gardens you will visit in Saudi Arabia. King Abdulaziz's historical park is an open area that you can enjoy with your family. Then proceed to the Hall of King Abdulaziz where there is a showroom of old cars that were used by the king.
Then we will move to the next visit to Murraba palace is among the most important palace built by King Abdulaziz. This Palace was to accommodate his family. It was built on the local traditional Najid style by using local building material only. enjoy amazing photos here inside Murraba palace.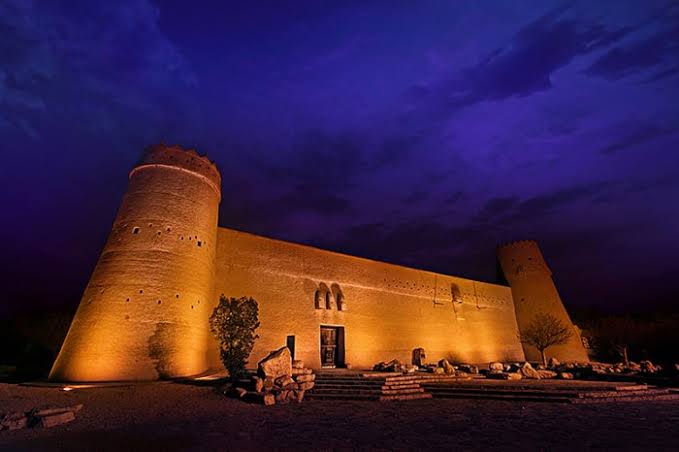 Then you will visit the Dira Souq traditional Saudi market which is famous for its variety of old copper and brass objects including silver daggers, silver Beduin's Jewelry and dresses. While entering from main access, one always smells sandalwood fragrance. Dira Souq is worth buying antique carpets and other useful Saudi heritage antiques.
Then visit the Al Masmak, Enjoy and step back in time and explore Saudi Arabia's roots. Fascinating exhibitions on display show maps and photographs of Saudi Arabia, alongside a range of historical artifacts, artworks and audiovisual attractions. A short documentary also re-enacts the capture of the fortress by King Abdul Aziz, whose spearhead you can still see embedded in its wooden gate.
(Optional ) Riyadh Food Tour
Overnight in Riyadh.
Day 3 : Edge of the World Tour
Breakfast. Drive to Jebel Fihrayn popularly known as "the Edge of the World" is 120 Km from Riyadh. Standing atop the 1,000-foot high escarpment at Jabal Fihrayn, you find stretching before you an uninterrupted view of the horizon in all directions, leaving you with the impression that you are, indeed, standing at the very edge of the world. The effect on one's body and mind and soul is exhilarating.
These cliffs rise dramatically from the desert, stretching toward the sky like a great natural wall. When you stand atop them and look toward the horizon, you have a prime view of the sky as it seems to melt into the barren earth.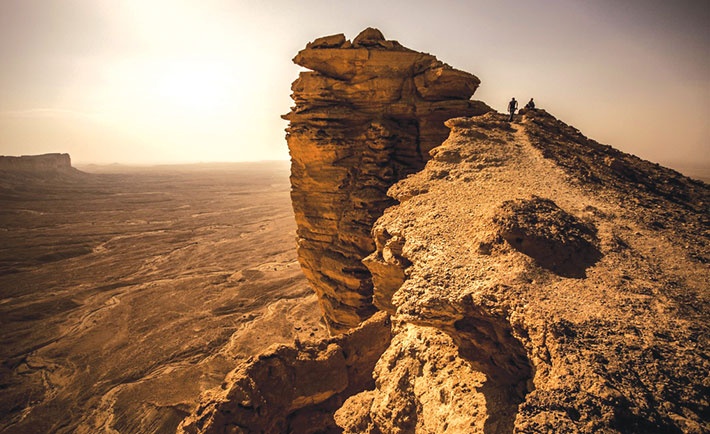 The Edge of the World (Jebel Fihrayn) is an unexpected and dramatic geological wonder in the rocky desert northwest of Riyadh, Saudi Arabia. The site earned its nickname because from atop the escarpment, you have an uninterrupted view of the horizon.
It's part of the much longer Tuwaiq Escarpment, and drops down 1,000 feet into an ancient ocean bed. While standing on the cliffs, you'll spot dried rivers weaving across the land, and see camels moving far below. These camels and their herders are following a well-trodden path, as an ancient caravan route once passed within its shadow.
Overnight in Riyadh.
Day 4: Ul Shaiger Heritage Village Tour
Breakfast. Drive to Ushaiqer heritage village will introduce you to the charming nature and ancient architecture of Saudi Arabia, While also giving you the opportunity to experience Saudi customs and traditions.
Hidden in the heart of the Najd, an oasis-dotted region 200 km northwest of Riyadh, Ushaiger Heritage Village provides a glimpse of a slow-paced Saudi society of old.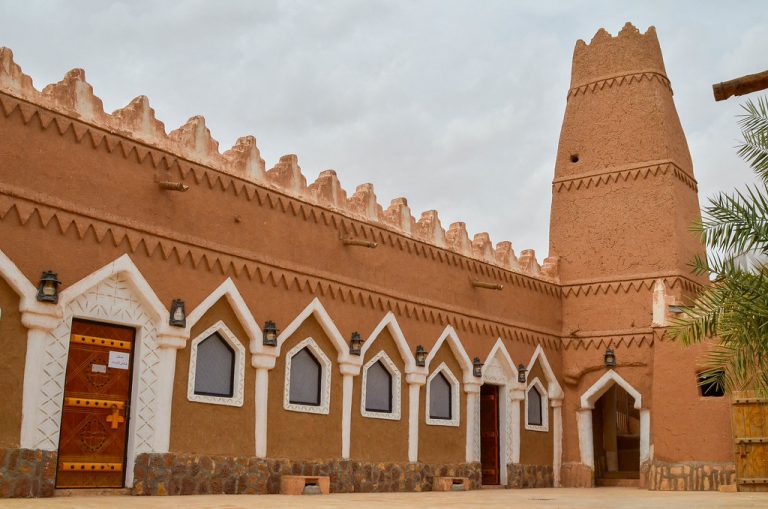 Bedouins first settled here 1,500 years ago and Ushaiqer quickly became a popular stopping point for pilgrims crossing to Makkah, thanks to its springs and low-brimmed olive and palm groves. Ushaiqer – which, in a naming quirk, means 'little blonde' to reflect the nearby red mountain that looms over the yellow mud houses – still has a small community of residents, making use of its schools, shops and mosques. To walk its narrow lanes is to enter a living museum, draped with traces of an ancient way of life.
Encased in thick walls, Ushaiqer is a labyrinth of winding alleyways, shaded pathways and timber-framed walkways, crossing between hundreds of mud houses. The village is divided into districts and bisected by groves of palm trees, and includes a cluster of beautifully renovated houses. These offer a stunning example of Najdi architecture, with its distinctive triangular windows and roofs, and ornately carved wooden doors. Some still bear the names of the families who lived there.
Overnight in Riyadh
Day 5 : Al Qassim
Breakfast. Drive to Onaizah city.Unaizah is in the center of Al-Qassim Province and near to the center of Nejd Province. Start your tour visit cultural farm.
You will have chance to watch how the Saudi farmers cultivate their lands , which tools they use they still use the old traditional methods, you can have chance to drink traditional tea with them in their break time.
Then you will visit visit to flkloric art center and you will have chance to visit to Musukaf cultural market.We will do our best to get for you the maximum out of this trip and make you understand how those people You will visit its most traditional markets, traditional coffee shops, local rural restaurant.Our tour guide will do his best to show you the most interesting and different places and introducing you to the wonderful countryside people. living and working and their traditions.
Overnight in Qassem
Day 6: Drive to Hail – Hail Tour
Breakfast. Drive to Hail city. Its central position and the wells fed by the rain water drained off the nearby mountains made Hail an important oasis on the ancient caravan trade routes.you will visit Faid ancient city ( pre-islamic ) and volcano crater.
Continue driving to Hail city and transfer to hail hotel.
Drive to Aja rosy mountains.You will have chance to have a picnic time with your family and open time for hiking at Aja rosy mountains.
Overnight in Hail.
Day 7: Fly to Jeddah
Breakfast. Transfer to Hail airport to take your flight to Jeddah . Arrival and transfer to hotel.
Overnight in Jeddah
(Optional) Jeddah By Night Tour
Day 8 : Jeddah– Al Wahbah Crater
Breakfast. Drive to A wonderful, and still relatively unknown place in the heart of Saudi Arabia.
In western Saudi Arabia is a natural wonder that intel recently was pretty unknown to the outside world.
Al Wahbah Crater, also Maqlaʿ Ṭamiyyah is a volcanic crater, which is about 350 Km away from Jeddah, on the western edge of the Harrat Kishb basalt plateau in the Hejazi region of Saudi Arabia. The Harrat Kishb plateau contains many volcanic cones. The bottom of the crater is covered with white sodium phosphate crystals.
Measuring 4km wide and 250-meters deep, the sprawling Al Wahba crater is one of Saudi Arabia's most dramatic natural wonders: a vast hollow with an opaque lake at its heart.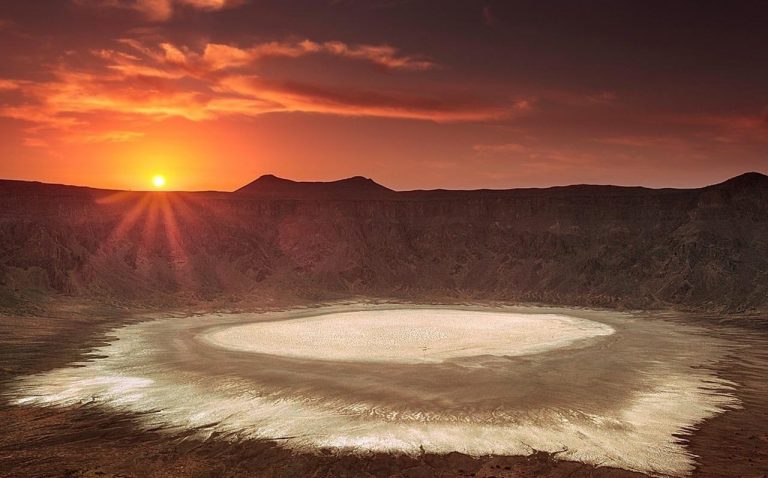 The crater was once thought to have been formed by a meteorite crashing to earth, but research by geologists in the 1960s revealed Al Wahbah to be a maar crater. These shallow hollows are caused by volcanic eruptions that occur when groundwater comes into contact with hot lava.
Locals, however, have their own legend of Al Wahbah's creation. According to the tale, the area once held two mountains: Tamia and Cotton. One night, after a flash of lightning illuminated Cotton's beauty, Tamia fell in love with him and vowed to uproot herself to be closer to her beloved. But before she could reach him, her mountain-cousin Shelman became jealous and shot her with an arrow, sending her crashing to the ground. The crater was formed by her fall.
When you go please make sure that you took enough food especially the water. There is no supermarket or shops near to this.
Drive back to Taif. Arrival and transfer to your hotel.
Overnight in Taif.
Day 9: Taif City Tour – Drive to Jeddah
Breakfast.Start the tour with Shubra Palace.The palace is the most stunning vestige of old Taif, with latticework windows and balconies and interior marble from Carrara. King Abdul Aziz used to stay here and the palace was later the residence of King Faisal.
A unique amalgamation of Arabic and Romanian architecture. It is impressive worth photographing.
It is located on the northern side of Taif city center, and overlooks Shubra Street which is one of the most important pivotal streets in the city of Taif, Ali bin Abdullah bin Aoun Pasha has ordered the establishment of the Shubra Palace in 1905 AD.
(you can be visited only from outside as there are some renovation works now)You will visit this as it offers enough photographic angles and its historical for this region.
Then will take you to Al Rudaf Park.Its a great place to relax and enjoy the beauty of nature!There are music fountains, grasses, small rock mountains, and many play grounds for children. Its a very nice park and place but its for family only.

Then visit Bab Alrea is a Triple-arched gate to Taif's old city, leading to a market area selling fruit, vegetables & spices.
Then go to the oldest and best shopping mall in Taif, Taif's Heart Mall.Its an exciting place, where you and your family can shop, play, eat, and have splendid time
Then visit Al Shafa mountain and Al Hada mountain,It's considered as one of the most beautiful and important mountain roads in the region. It connects Taif city with the other regions on the west and north. It acquires enchanting and attractive views.
Nice drive up Al Shafa mountain is the highest mountain in the area of the town.Its also know as Jabal Dakkā.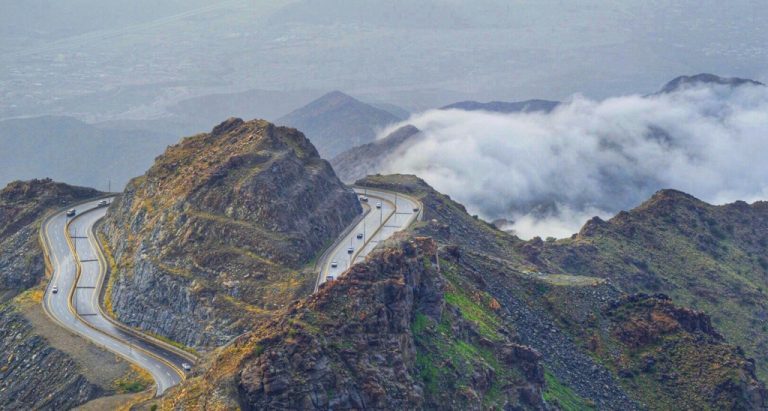 You will walk and climb up Shafa mountain. It's a difficult walk / climb, the views are fantastic and well worth the effort The higher up in the mountains you feel the gentle cool air. Amazed about so many different plants and trees, herbs and fruit bushes growing everywhere. It's rich on natural resources as honey, rose gardens, herbs and so much more.
A cable car at extra ticket journey up to the Al-Hada Mountain starts down in Al-Kurr Village and takes visitors all the way up to the mountaintop, where an upscale restaurant and hotel are located.
Then travel in comfort back to your hotel in Jeddah.
Notes: It is necessary that you wear flat, closed and very comfortable shoes whilst taking this tour.
Overnight in jeddah.
Day 10: Jeddah Historical tour
Breakfast.Start your tour to visit Jeddah's historical downtown area (Al-Balad) which is the historical area well known as the "Old Town", where many of the oldest families used to live and work. It boasts of old buildings, a traditional souk and many restaurants, where visitors get to walk amid the old streets and experience the traditional landscape of the old town.
When you are in historical Jeddah we will take you back to the old era of Saudi Arabia, all your senses will be in action. You will hear and learn amazing stories about Jeddah and ride and walk through secret doors, Enjoy a wonderful walking Al-Balad.
This history tour of Old Town will take you along all the less known must-see local spots: Beit Nassif, Makkah gate for a photo stop, Historical Jeddah north gate stop for a photo, other historical houses provide a rare opportunity for you to experience the blend of traditional architecture with modernity Old Market hidden gems, Old Jeddah hidden galleries and Local Jeddah food shops only for locals no tourists know about it.
Then you will visit Al Shafi Mosque, The oldest mosque in Jeddah.
Then you will visit Al Tayebat International City Museum, It's a maze of different rooms covering Saudi history, architecture, interior decoration, Islamic art from Saudi and other Islamic countries. The museum itself is a great place for photos.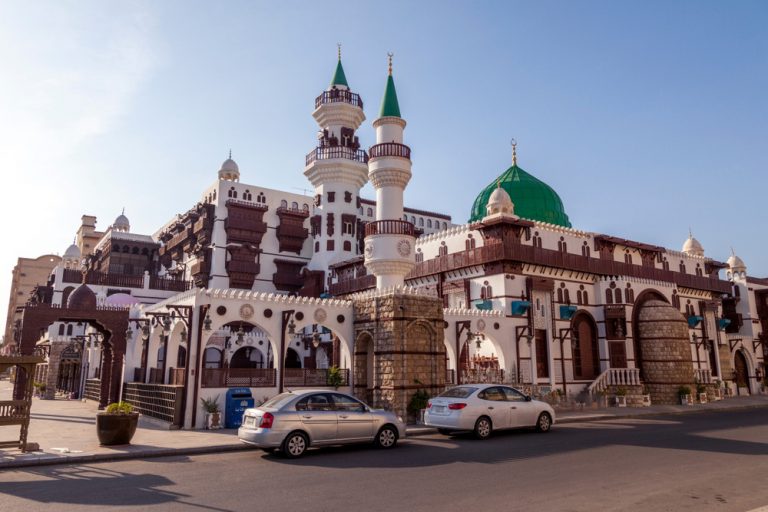 Its four-floor collection has displays ranging from pre-Islamic artifacts, exquisite Islamic manuscripts, old coins and weaponry to stunning furniture, pottery and traditional Saudi dress. Replicas of home interiors from every region are also featured. Exhibits are accompanied by excellent information panels, as well as dioramas of the Kingdom's provinces.
End the tour by enjoying a ride along The New Jeddah Corniche is the 30 km coastal resort area of the city of Jeddah. Located along the Red Sea, the corniche features the coastal road, recreation areas, pavilions and large-scale civic sculptures for all to enjoy and take pictures.
(Optional) Jeddah Food Tour
Overnight in Jeddah.
Day 11 : Departure
Breakfast.Our tour leader/driver will transfer you to the airport and assist you at the airport through final departure formalities.
Includes :
4 Nights hotel accommodation in Riyadh on bed and breakfast basis
1 Nights hotel accommodation in Al Qassim on bed and breakfast basis
1 Nights hotel accommodation in Hail on bed and breakfast basis
1 Nights hotel accommodation in Taif on bed and breakfast basis
3 Nights hotel accommodation in Jeddah on bed and breakfast basis
All your tours and excursions are with an A/C vehicle.
The service of meet and assist at all your destinations
English speaking tour leader/driver.
All your visits include entrance fees.
Our prices include all taxes and services.

Excludes
Visa Entry for Saudi Arabia. (We can provide you with your visa upon arrival at your request).
International Flights.
Domestic airfare.
Personal items.
Important Note :
We accept all methods of secure payment: Visa, MasterCard, PayPal, direct bank transfer.
Kindly note that the hotel rating in Saudi is not the same as in USA or Europe, so Luxury or Ultimate Luxury hotel options are always recommended.
Accommodation Plan (A) 5 stars:
Riyadh: (Shaza Riyadh // Rosh Rayhaan by Rotana // Four Points By Sheraton Riyadh Khaldia)
Jeddah:(Prime Hotel – Jeddah, Al Hamra // Radisson Blu Hotel, Jeddah Al Salam // Sheraton Jeddah Hotel // Mövenpick Hotel Tahlia Jeddah )
| | | | |
| --- | --- | --- | --- |
| | 3 Stars | 4 Stars | 5 Stars |
| Price per person in DBL or TRPL Room | 3300$ | 3575$ | 5775$ |
| Solo traveler | 5280$ | 5720$ | 9240$ |
| Christmas & Easter – DBL or TRPL Room | 3240$ | 4290$ | 6930$ |
| Christmas & Easter – Solo traveler | 6335$ | 6865$ | 11085$ |
Accommodation Plan (B) Luxury:
Riyadh: (Hyatt Regency Riyadh Olaya // Hilton Riyadh Hotel & Residences)
Jeddah: (Jeddah Hilton // Elaf Jeddah Hotel – Red Sea Mall )
| | | |
| --- | --- | --- |
| | All year round | Christmas and Easter |
| price per person in dbl room | 7975$ | 9570$ |
| Solo traveler | 12760$ | 15315$ |
Accommodation Plan (c) Ultimate Luxury:
Riyadh: (Al Faisaliah Hotel // Burj Rafal Hotel Riyadh // Marriott Riyadh Diplomatic Quarter // Narcissus Hotel and SPA Riyadh )
Jeddah: (Park Hyatt Jeddah – Marina, Club and Spa // Rosewood Jeddah )
| | | |
| --- | --- | --- |
| | All year round | Christmas and Easter |
| price per person in dbl room | 9075$ | 10890$ |
| Solo traveler | 14520$ | 17424$ |
Travel Insurance – from AIG
Secure your trip and give yourself greater peace of mind with the Travel Insurance program proposed by AIG for you. For more info visit www.aig.com
One week 50$ per person
More than one week 75 $ per person.
Saudi Sim Card
if you plan to get a Saudi sim card we would advise you to get it at the airport when you arrive. as it will be much easier to buy it from the airport other than anywhere else as they request more documents if you decide to buy it later from anywhere else.
Our Tour Leader/Driver
We don't only choose qualified and professional Tour leader/ Drivers but also choose those who are friendly, with a sense of humor who are committed to offering a superior level of service so you can enjoy your time with them.
How To dress
Both men and women are asked to dress modestly in public, avoiding tight-fitting clothing. Women should cover shoulders and knees in public.
Your passport
You should keep your passport with you during any tour you will be making in Saudi Arabia. don't leave it in your hotel room as some times they request to see your passport or visa.
Saudi Arabia Tour Packages Saudi Arabia Luxury Tours
Riyadh Tours Riyadh Historical Tour Edge Of The World Tour Al Qara Hill & Jawatha AlAhsaa Tour
Jeddah Tours Jeddah Historical Tour Jeddah Desert Safari By Quad Bike
Al Ula Tours Madain Saleh Tour Al Ula Luxury Tour Package – 3 Days
Abha Tours Trip To Rijal Almaa Abha City Tour Abha Historical Tour
Tabuk Tours Tabuk Tour Trip to Wadi Al Disah 3 Days Tabuk Tour
Jazan Tours Jazan Day Tour 3 Days Jazan Tour 3 Days Farasan Island Tour
Umluj Tours Umluj Boat Trip Tour 3 Days Umluj Tour
Dammam Tours Dammam City Tour Al-Qara Hill & Jawatha Al Ahsaa Tour From Dammam
Mecca Tours Mecca religious tour
Women Traveling Alone In Saudi Arabia
Saudi Arabia Honeymoon Packages
Saudi Arabia Desert Safari Tour Packages