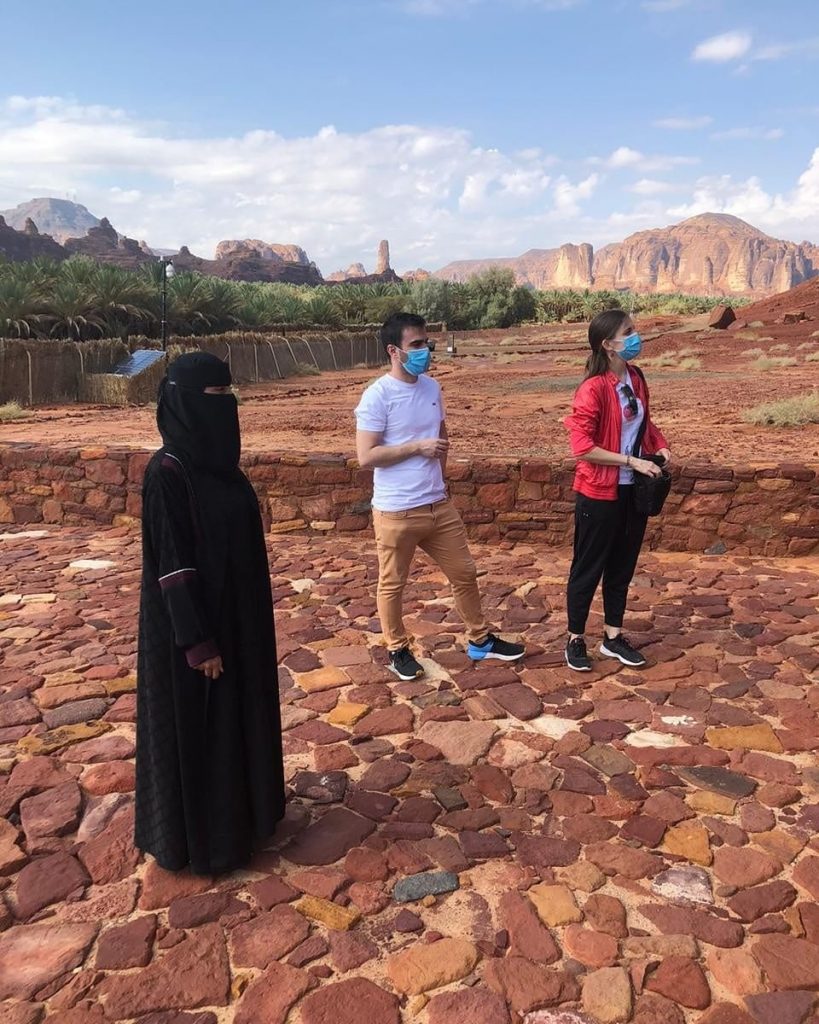 Schedule:
Everyday
Duration:
3 Days Al Ula Luxury Tour Package.
Pickup Time:
Depend on your arrival flight time

Tour Highlights:
Al Ula Luxury Tour Package 3 days, Madain Saleh, Hegra, Hijaz Railway station, Elephant Rock, Dadan & Jabel Ikmah.
Day 1: Arrival to Al Ula
Your tour leader/driver will be awaiting you at the Al Ula airport.
From the moment your tour starts, your guide will give you full attention. Once in the car, your guide will talk to you about all the things on the way as well as other aspects of your tour that will interest you.
You will be transferred by an A/C car to your hotel. Overnight in Al Ula.
Day 2: Madain Saleh – Elephant Rock
Start your tour visiting the Hegra, also known as Madain Saleh , or Al-Ḥijr is an archaeological site located in the area of AlUla within Al Madinah Region in the Hejaz, Saudi Arabia. A majority of the remains date from the Nabatean kingdom. The site constitutes the kingdom's southernmost and largest settlement after Petra, its capital.
The Archaeological Site of Al-Hijr (Madain Saleh) is the first World Heritage property to be inscribed in Saudi Arabia. Formerly known as Hegra it is the largest conserved site of the civilization of the Nabataeans south of Petra in Jordan. It features well-preserved monumental tombs with decorated facades dating from the 1st century BC to the 1st century AD. The site also features some 50 inscriptions of the pre-Nabataean period and some cave drawings. Al-Hijr bears a unique testimony to Nabataean civilization. With its 111 monumental tombs, 94 of which are decorated, and water wells, the site is an outstanding example of the Nabataeans' architectural accomplishment and hydraulic expertise.
Then we will move to the next visit to Hijaz Railway Station (some times it's closed for renovation without advance notice) AlUla has long been a place of journey, travel and exploration; Hijaz Railway station construction began in 1900, reaching Madinah in 1908 and opening in Damascus in 1913. As a result of World War I, the railway's full 1,300 planned kilometres were never completed.
The site dates back to the Nabataean civilisation and is spectacular. Its is a Unesco World Heritage site the first in Saudi Arabia. its holds remain of Hijaz railway from Istanbul from Makkah- Madina that build by the Ottoman empire and destroyed in world war one.
Then enjoy Elephant Rock,This spectacular rock formation resembles an elephant with its trunk touching the ground, is one of AlUla's geomorphological wonders became one of AlUla iconic landmarks.
Elephant Rock, also known as Jabal AlFil, one of AlUla's many geological marvels.
Overnight in AlUla.
Day 3: Jabal Ikmah & Dadan Tour
Start your tour visit Jabal Ikmah, An open air library across AlUla's Valley, lie thousands of inscriptions in Aramaic, Dadanitic, Thamudic, Minaic and Nabataean, features one of the oldest inscriptions of the Islamic era dating back to 24AH (644 CE).
Thousands of pre-Arabic inscriptions across numerous sites make AlUla an important location in studying the Arabic language. A mountain north of the AlUla Valley, AlAqra'a, features more than 450 early Arabic inscriptions. Naqsh Zuhayr, to the east, features one of the oldest inscriptions of the Islamic era — dating back to 24AH (644 CE). But no such site is more significant than Jabal Ikmah, home to the highest concentration of and most varied inscriptions in AlUla.
In a beautiful desert landscape warmed by the sun, the largest "open library" in Saudi Arabia sits tucked away in a remote canyon valley.
Dadan was a caravan way station for many peoples, and one of the clues that AlUla was truly a crossroads of civilisations is Jabal Ikmah, which was visited by those wishing to leave their inscriptions and offerings en route through AlUla. Records kept here — in the form of hundreds of inscriptions and carvings lining the cliff faces and rocks — ensured that Jabal Ikmah would be remembered throughout the ages.
A visit to this magnificent site, with its inscriptions thought to date as far back as the 1st millennium BCE, is a glimpse into the past.
At the end Drive to at Al Ula Airport & end of the tour.
Note: sightseeing tours on Herga and Dadan & Ikmah will be sharing with a local tour guide and a small local group.
Al Ula Luxury Tour Package Includes :
2 Nights hotel accommodation in Al Ula.
All your tours and excursions are with an A/C vehicle.
The service of meet and assist at all your destinations.
English speaking tour leader/driver.
All your visits include entrance fees.
Our prices include all taxes and services
Excludes :
Visa Entry for Saudi Arabia. (We can provide you with your visa upon arrival at your request).
International Flights.
Tipping.
Any Optional tours.
Drinks during meals.
Important Note :
We accept all methods of secure payment: Visa, MasterCard, PayPal, direct bank transfer.
Accommodation Plan (A) 5 stars:
Al Ula Hotels
has only a limited number of basic local hotels managed by locals. Kindly note that the hotel ratings in Al Ula are not the same as in the USA or Europe at all, it's just local simple clean basic hotels. As Luxury Hotels we only recommend first Habitas Al Ula or Shaden Resort as second option.
Sahary Al Ula resort.
| | |
| --- | --- |
| Price per person in DBL or TRPL Room | 2500$ |
| Solo traveler | 3700$ |
Accommodation Plan (B) Luxury:
Shaden Resort
| | |
| --- | --- |
| Price per person in DBL or TRPL Room | 3500$ |
| Solo traveler | 5250$ |
Accommodation Plan (C) Ultimate Luxury:
Habitas AlUla (Luxury Canynon Villa ) Highly Recommended Ultra Luxury
| | |
| --- | --- |
| Price per person in DBL or TRPL Room | 4400$ |
| Solo traveler | 6200$ |
Travel Insurance – from AIG
Secure your trip and give yourself greater peace of mind with the Travel Insurance program proposed by AIG for you. For more info visit www.aig.com
One week 50$ per person
More than one week 75 $ per person.
Saudi Sim Card
if you plan to get a Saudi sim card we would advise you to get it at the airport when you arrive. as it will be much easier to buy it from the airport other than anywhere else as they request more documents if you decide to buy it later from anywhere else.
Our Tour Leader/Driver
We don't only choose qualified and professional Tour leader/ Drivers but also choose those who are friendly, with a sense of humor who are committed to offering a superior level of service so you can enjoy your time with them.
How To dress
Both men and women are asked to dress modestly in public, avoiding tight-fitting clothing. Women should cover shoulders and knees in public.
Your passport
You should keep your passport with you during any tour you will be making in Saudi Arabia. don't leave it in your hotel room as some times they request to see your passport or visa.