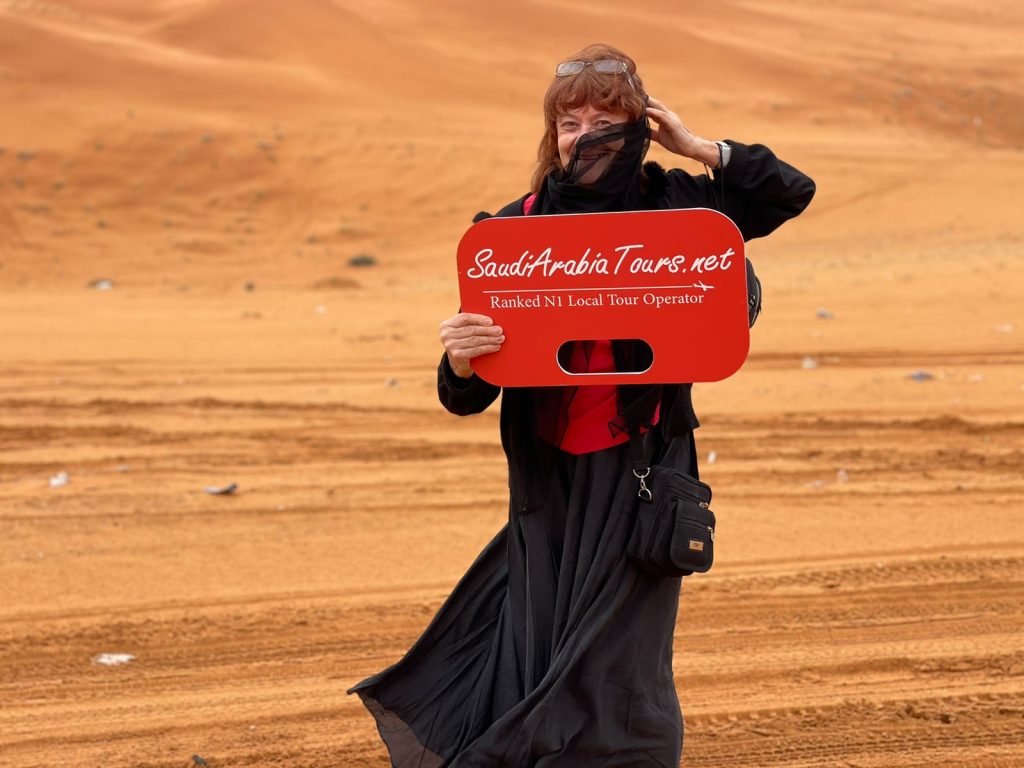 Schedule:
Everyday
Duration:
4 Days.
Day1. Arrive AlUla – Time at Leisure:

On arrival at the AlUla Airport, clear the airport exit formalities and meet with your driver. You'll be transferred to your hotel in AlUla as per the transfer booked. Upon arrival check in to the hotel and relax. Standard check in time is between 14:00 Hrs to 15:00 Hrs.
AlUla is one of the very few places in the world where one can experience the feeling of a true explorer charting the unknown. The 'Selfie Stick' invasion is yet to reach the magnificent canyons and grounds of AlUla. Home to the first UNESCO World Heritage Site in Saudi Arabia, situated deep in the desert in the northwestern region of the country, here you might still be able to live your fantasy of being a daring archeologist for a day! Till date AlUla remains largely off the radar of popular tourist trails, giving its visitors the space and time for reflection with the silence of the vast desert and the plethora of manmade wonders. Each moment here feels like a life time in the presence of cutting-edge art installations, stunning mammoth rock structures and ancient tombs that remain as the legacy of 7,000 years of human civilization.
Day2. AlUla: Dadan and Jabal Ikmah tour // OPTIONAL – Stargazing or Moon Night Experience

After breakfast at the hotel, get ready to discover these fascinating lands.
You will tour the extensive site between Dadan and Jabal Ikmah in an air-conditioned coach which is included in your ticket price. The Dadan and Jabal Ikmah Tour starting point is at Winter Park where you will board the coach to the Dadan Welcome Centre. At the Dadan Welcome Centre, you'll be greeted by one of the local Rawi's and offered complimentary Arabic coffee, some local dates and water and a short briefing. Explore the ruins of the ancient Kingdom of Dadan, one of the most developed 1st millennium BCE cities in the Arabian Peninsula. Dadan was the capital of the Dadanite and then the Lihyanite Kingdoms and one of the most important centers of the caravan trade. Head to the east of the city to see more than a dozen tombs cut into the red-rock cliff faces, including the famous Lion Tombs marked by seated lion sculptures and marking the burial site of a member of the royal family. This area was once just a basin covered in dust and sand. Now it's a live excavation site and archaeologists are discovering more about this little known era in Northern Arabian history. NEXT STOP You can move on to Jabal Ikmah to examine the hundreds of inscriptions and writings on the cliffs and rock faces that date mainly to the Dadanite and Lihyanite periods. There are five different languages found in the inscriptions in Jabal Ikmah including one which is the pre-cursor to the Arabic language. These inscriptions help decipher the way of life and the things that matter to the people living in AlUla during that era. We are working hard to protect the heritage sites from any accidental or unintended damage in order to preserve them for future generations, this tour does not include entry to any of the tombs and you can only visit and see them from outside. Please book online or at the visitor centre at Winter Park before visiting Dadan & Jabal Ikmah to avoid disappointment.
Later in the day we recommend taking the optional Stargazing or Moon Night Experience. You can gaze up at the beauty of the night sky at Al Gharameel. Dark and mysterious, it is the perfect place for a spot of stargazing. This is something which even some of the Saudi professional photographers usually do in Al Ula surroundings, especially when they visit the famous site where they've shot their best pictures of the Milky Way, in just 76km drive we would arrive at this astounding area where there's a natural arch ideal for taking pictures during the day and star gazing from by night, we'd have a bonfire gathering at a nearby secluded place to lessen the glare of the fire so we avoid light pollution when watching the stars and taking a picture. Then return back to the hotel.
Day3. AlUla – Elephant Rock Morning Experience – AlUla Old Town – Tour of Hegra // OPTIONAL: AlUla Farm experiences

Today set out to explore the Natural Wonders Hidden in this beautiful part of the Kingdom of Saudi Arabia.
Elephant Rock Morning Experience – Ask your hotel to pack you up a breakfast and head out early to Elephant Rock to see the sun rise over this much-loved monolith. With that once-in-a-lifetime experience firmly ticked off your wish list, you can return to hotel and get ready for a day full of exploration!

AlUla Old Town: This is an hour long tour with a Rawi (guide) of the AlUla Old Town which has 900 mudbrick houses, 400 shops and five rahbas, or town squares. Traces of original stone and mudbrick structures can be found at this remarkable site, with winding alleyways, windows glimpsing hidden lanes and roof-top terraces that only hint at the world within. Visitors can peek into the Masjid al-Izam, the restored Friday mosque mentioned in historic documents as having been visited by the Prophet Muhammad, who prayed here and designated the mihrab (or niche which the congregation faces to pray). Travellers will also be able to see the town's tantora, or sundial, where residents tracked the changing seasons and organized access to water and other resources.

Tour of Hegra: Arrive at Winter Park 40 minute prior to your tour start time to allow time for transportation. Winter Park has a visitor center to pick up your guide and map as well as a variety of food trucks to get you fuelled up for the tour.

Once your bus from Winter Park arrives at Hegra Heritage Site, you will be guided to the Hegra Welcome Centre, where you will be greeted by a rawi and offered complimentary Arabic coffee, some local dates and water. After a short briefing, you will walk outside and visit the Hijaz Railway Station and the buildings of the era and you will be guided to the air-conditioned luxury coach that will transport you around Hegra. The airconditioned luxury coaches operate continuously on a circular route around the site. Coaches will be stopping at key points of interest for you to take photos and learn more from the rawi.

First up is the Hijaz Railway experience, which will deepen your understanding of AlUla as a prominent hub for travel and exploration. Next at Jabal Ithlib, a natural mountain outcrop to the east of Hegra, hone your knowledge of the inner workings of Nabataean society, from how they built their settlements to the ways in which they practised their religion. Peek inside The Diwan, a rock-cut chamber that was once a venue for sumptuous banquets, and a meeting room for the leaders of the city. You will also find The Siq here, a natural narrow passageway through the mountains, perfect for a photo. The next stop is Jabal AlBanat, one of the largest clusters of tombs in Hegra with 29 tombs that have skilfully carved facades on all sides of the sandstone rock. Continue your journey of discovery at Jabal AlAhmar, home to 18 tombs, some of which have been recently excavated. The name refers to the unique red colour of the rock. The last stop of the tour is the monolithic Tomb of Lihyan Son of Kuza, Hegra's largest tomb, measuring about 72 feet tall. Left unfinished, with rough, unsmoothed chisel marks skirting its lower third, it is at times referred to as Qasr al-Farid by the locals, meaning the "Lonely Castle" in English, because of its distant position in relation to the other tombs. As your tour comes to an end, you will return to the Hijaz Railway Station, from where you will take the coach back to Winter Park.

Later in the day we recommend taking an Optional tour of AlUla Farm. This is a fantastic tour around the agriculture of AlUla. Get back to nature by picking fruits, planting seeds and enjoying a seating area in the farm. AlUla is not only the most beautiful desert landscape to visit in the Kingdom, but also hides gems such as AlUla Fresh Farm. The farm offers an amazing experience that will excite both children and adults. Clients are received by their team and handed an empty basket — then the adventure begins. According to the season, different fruits are available. Clients are encouraged to pick the fruit, which they then place in the basket. Most of the trees produce different types of citrus fruits. A narrow path offers peace and quiet — a welcome change for those seeking a break from busy city life. The path leads to a small cabin where Clients hand over their harvest. On the spot, staff can blend the fruit and serve up a refreshing juice. While sipping on their drink, clients can visit a replica village where women sit weaving hand-held fans and coasters. Clients can ask them to make these items in their desired colors and take them home as souvenirs. Clients can also plant different seeds to leave a part of them on the farm forever — just as the memories of the farm remain with the visitor.
Day4. AlUla –Departure:
Today enjoy breakfast at the hotel. Later check out and Transfer to the airport for your onwards flight.

Important Note: The itinerary is tentative and subjected to change without prior notice. Final Itinerary will be handed over on the day of arrival.
Al Ula Tour Package Includes :
3 Nights hotel accommodation in Al Ula.
All your tours and excursions are with an A/C vehicle.
The service of meet and assist at all your destinations.
English speaking tour leader/driver.
All your visits include entrance fees.
Our prices include all taxes and services
Excludes :
Visa Entry for Saudi Arabia. (We can provide you with your visa upon arrival at your request).
International Flights.
Tipping.
Any Optional tours.
Drinks during meals.
Important Note :
We accept all methods of secure payment: Visa, MasterCard, PayPal, direct bank transfer.
Al Ula Hotels:
Al Ula has only a limited number of basic local hotels managed by locals. Kindly note that the hotel ratings in Al ula are not the same as in the USA or Europe at all, it's just local simple clean basic hotels. so you will be Living a Saudi local traditional Experience.
In al Ula there is only 2 hotels that we recommend which is Shaden resort and Habitas Al Ula
Accommodation Plan (A) 3 stars:
| | |
| --- | --- |
| Price per person in DBL or TRPL Room | 2665$ |
| Solo traveler | 4265$ |
Accommodation Plan (A) 4 stars:
| | |
| --- | --- |
| Price per person in DBL or TRPL Room | 3200$ |
| Solo traveler | 5120$ |
Accommodation Plan (A) 5 stars:
Sahary Al Ula resort.
| | |
| --- | --- |
| Price per person in DBL or TRPL Room | 3335$ |
| Solo traveler | 5335$ |
Accommodation Plan (B) Luxury:
Shaden Resort
| | |
| --- | --- |
| Price per person in DBL or TRPL Room | 4665$ |
| Solo traveler | 7465$ |
Accommodation Plan (C) Ultimate Luxury:
Habitas AlUla (Luxury Canynon Villa ) Highly Recommended Ultra Luxury
| | |
| --- | --- |
| Price per person in DBL or TRPL Room | 5865$ |
| Solo traveler | 9385$ |
Travel Insurance – from AIG
Secure your trip and give yourself greater peace of mind with the Travel Insurance program proposed by AIG for you. For more info visit www.aig.com
One week 50$ per person
More than one week 75 $ per person.
Saudi Sim Card
if you plan to get a Saudi sim card we would advise you to get it at the airport when you arrive. as it will be much easier to buy it from the airport other than anywhere else as they request more documents if you decide to buy it later from anywhere else.
Our Tour Leader/Driver
We don't only choose qualified and professional Tour leader/ Drivers but also choose those who are friendly, with a sense of humor who are committed to offering a superior level of service so you can enjoy your time with them.
How To dress
Both men and women are asked to dress modestly in public, avoiding tight-fitting clothing. Women should cover shoulders and knees in public.
Your passport
You should keep your passport with you during any tour you will be making in Saudi Arabia. don't leave it in your hotel room as some times they request to see your passport or visa.
For more related Al Ula Tours