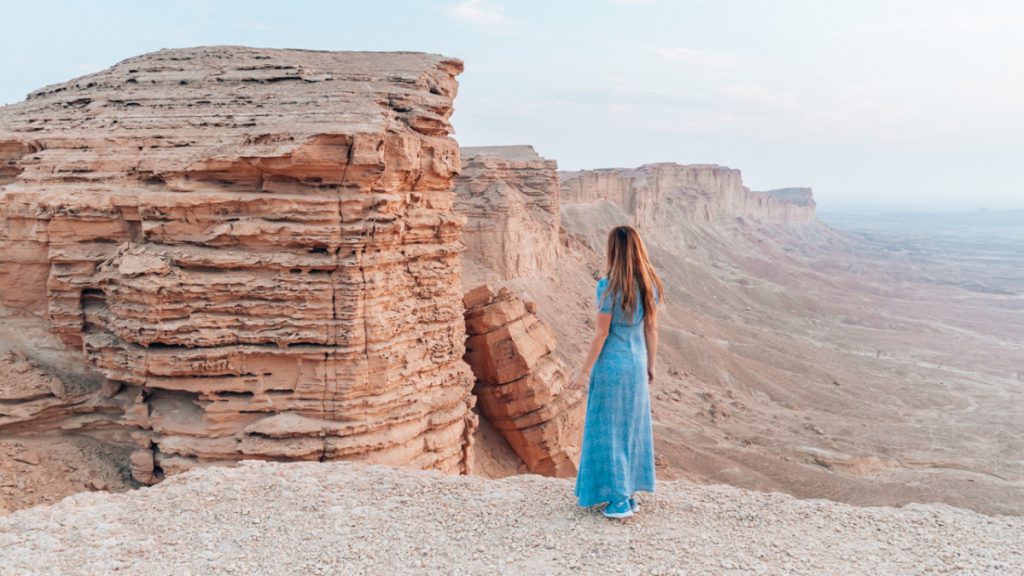 Tour Highlights
Diriyah & Edge of the World
Riyadh, Ushaiger, arrive Unaizah.
Buraidah, Hutaymah Crater, arrive Hail
Watch the sunset from the Edge of the World.
Jubbah & Great Nefud Desert
Hail, arrive Al Ula
Al Ula & Hegra
Al Ula, arrive Yanbu
Yanbu, arrive Jeddah
Jeddah, Bride of the red sea
Route Map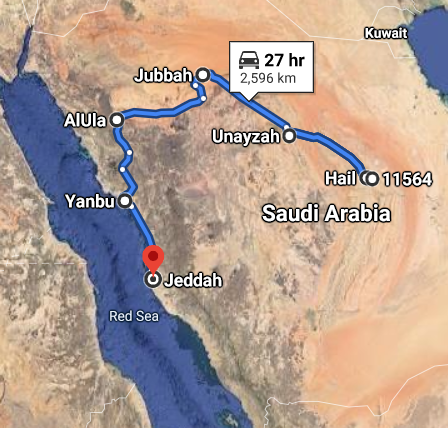 Day1: Arrive Riyadh, Saudi Arabia
Your Tour leader/ Driver will be waiting you. They will be holding a sign of SaudiArabiaTours, You do not need to look for them – they will be waiting for you and will find you.
You will be transferred by an A/C car to your hotel. Overnight in Riyadh.
Day2: Diriyah & Edge of the World
From the moment your tour starts, your tour leader will give you full attention. Once in the car, your tour leader will talk to you about all the things on the way as well as other aspects of your tour that will interest you.
Step back in time and discover the World Heritage Site of Diriyah where the story of modern Saudi Arabia began. Within Diriyah's historic Al Turaif district you'll see stunning examples of traditional Najdi mudbrick architecture and get a sense of the way of life in the first Saudi capital some two hundred years ago. some sites like the mud houses can be visited only from outside as there are some renovation works now. Some sites like the mud houses can be visited only from outside as there are some renovation works now.
Your journey continues this afternoon through an Acacia studded desert towards the Jebel Fihrayn also known as Edge of the world. Standing atop the 1,000-foot high escarpment at Jabal Fihrayn, you find stretching before you an uninterrupted view of the horizon in all directions, leaving you with the impression that you are, indeed, standing at the very edge of the world. The effect on one's body and mind and soul is exhilarating.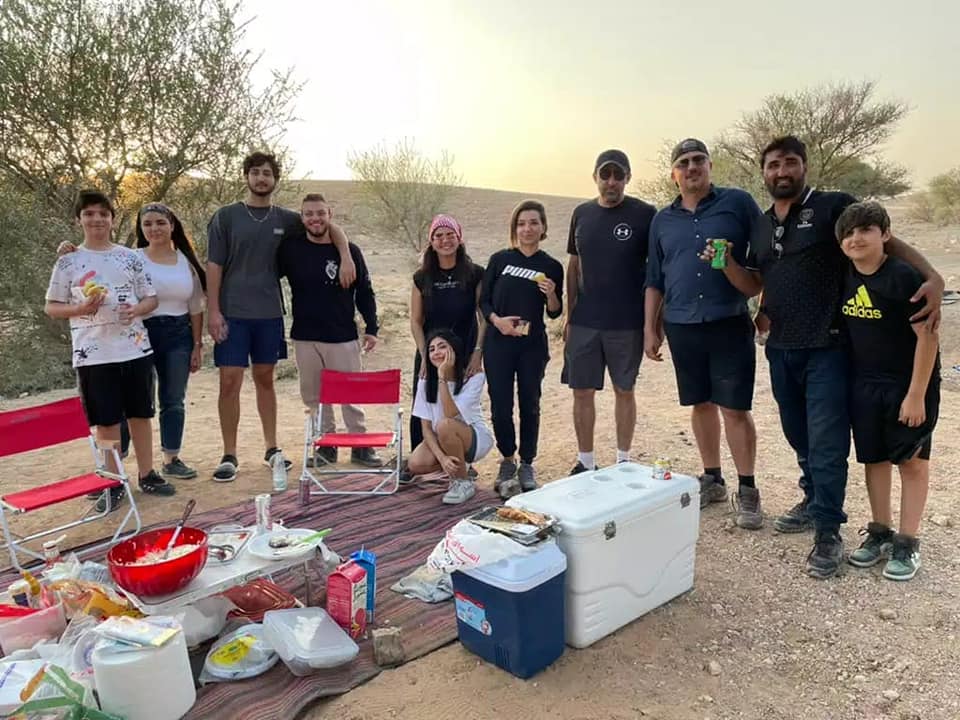 These cliffs rise dramatically from the desert, stretching toward the sky like a great natural wall. When you stand atop them and look toward the horizon, you have a prime view of the sky as it seems to melt into the barren earth.
The Edge of the World Saudi Arabia (Jebel Fihrayn) is an unexpected and dramatic geological wonder in the rocky desert northwest of Riyadh, Saudi Arabia. The site earned its nickname because from atop the escarpment, you have an uninterrupted view of the horizon.
It's part of the much longer Tuwaiq Escarpment and drops down 1,000 feet into an ancient ocean bed. While standing on the cliffs, you'll spot dried rivers weaving across the land, and see camels moving far below. These camels and their herders are following a well-trodden path, as an ancient caravan route once passed within its shadow.
Travel in comfort back to your hotel, Riyadh has so much to see, feel, eat and buy so if you have time and want to add more to your itinerary – just let us know what you are interested in and we will arrange it for you.
(Optional ) Riyadh Food Tour, Start at 4:00 pm.
To enjoy the real taste of Saudi Arabia you have to try the original Saudi Arabian food Tour. Enjoy the best local food in Saudi Arabia which is one of life's great pleasures, Discover off-the-beaten-path spots the real Saudi Arabia that is not covered in any guidebook.
Meals: Breakfast & Lunch.
Day3: Riyadh, Ushaiger, arrive Unaizah
Enjoy a lovely breakfast at your hotel. Saudi Arabia Tours' tour leader will be waiting for you this morning so that you can embark on your Saudi Arabia self-drive adventure. Prior to leaving Riyadh, you might like to see the city's Al Masmak Fortress and the nearby Souq Al Zal, the city's oldest market, for a glimpse of traditional Saudi culture and some shopping. A scenic drive of two hours and thirty minutes will bring you through the Akroushiah Red Sands to Ushaiger. This stunning walled village is a superb example of traditional Najd architecture. Within the maze of alleys are museums and hundreds of mudbrick houses. After your visit continues to Unaizah (two hours).
(Optional) Riyadh By Night Tour
Start your tour in Riyadh Winter Wonderland, you can see how Saudi locals men and women have fun. you would be surprised. Riyadh Winter Wonderland is held on an open space of 200,000 square meters and includes the largest skating rink in the Middle East. With celebrities attending from all over the world, the winter celebration offers several games, competitions, and performances, not mentioning the shopping opportunities and the exceptional gastronomic experience to be had at the many diners there.
Meals: Breakfast only.
Day4: Buraidah, Hutaymah Crater, arrive Hail
Enjoy a lovely breakfast at your hotel. Rise early to visit one of Saudi Arabia's most colourful and photogenic spectacles – the Buraidah Camel Market – The camel has a special place in the Bedouin culture. In the outskirts of Buraydah in Al-Qassim, across two square miles, lies the largest camel market in the world where some 700 animals are traded daily (swelling to two thousand animals on Saturdays). The noise and theatre as dealers attract eager huddles of merchants as they auction camels that can reach as much as one million US$ is incredible! Then, visit the nearby high-tech Camel Hospital and have coffee in a beautiful date garden. Drive on to the massive Hutaymah Crater – the result of a volcanic explosion millions of years ago – before continuing to Ha'il.
Meals: Breakfast only.
Day5: Jubbah & Great Nafud Desert
Enjoy a lovely breakfast at your hotel. Travel north to reach the UNESCO World Heritage Site of Jubbah.
Jubbah is one of the most interesting places of Saudi Arabia. It is believed that camel figures carved at Jubbah are the oldest in the Arabian Peninsula. These rock carvings date back to approx. 4000 years.
Jubbah lies on an ancient lake bed that measures at least 20 km by 4 km with its full extent concealed beneath wind-swept sand on its northern, southern and eastern boundaries. Jubbah is surrounded by large sandstone outcrops that are filled with ancient petroglyphs and inscriptions on the rock face.
Here, on the walls of Jabal Umm Sinman, the finely accomplished rock art may be as much as 11,000 years old and sheds light on human activities, hairstyles and clothing during the Palaeolithic period. Lady Anne Blunt, one of the first Europeans to witness Jubbah's art, wrote in 1879: 'Jubbah is one of the most curious places in the world and to my mind one of the most beautiful.' After lunch on an old date farm, return to Hail via the deep red sands of the Great Nefud Desert.
Meals: Breakfast & Lunch.
Day6: Hail, arrive Al Ula
Enjoy a lovely breakfast at your hotel. This morning you might like to visit Hail's imposing 17th-century A'arif Castle or the Qishlah Fortress, which is an impressive sight located in the centre of Ha'il. The current building was built in the 1940s while prince Abdul-Aziz bin Musa'ad Al Saud held office in Ha'il province. It is the largest traditional mud-brick fortress in Ha'il and is very well restored and preserved both outside and inside. It was used mostly as a barracks. before driving west and passing the Jabal Aja towards Al Ula (4.5 hours).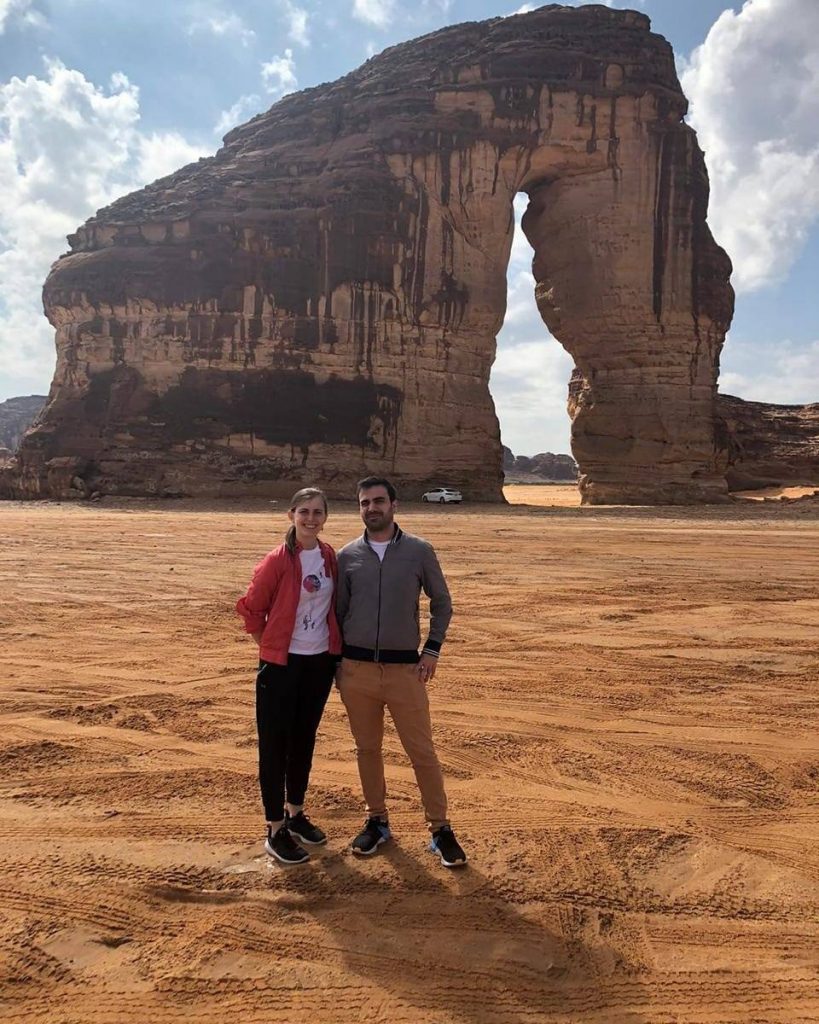 Prior to check-in at your desert camp, you could wander through the atmospheric ruins of old Deerah village and possibly drive up a nearby mountain for a stunning bird's eye view over the Al Ula valley with life-giving oasis and wonderfully weathered rocks.
Meals: Breakfast & Lunch.
Day7: Al Ula & Hegra
Enjoy a lovely breakfast at your hotel. An hour's walk in the cool morning air along with Elephant Rock, also known as Jabal AlFil, one of AlUla's many geological marvels. Enjoy Elephant Rock, This spectacular rock formation resembles an elephant with its trunk touching the ground, is one of Al Ula's geomorphological wonders became one of AlUla iconic landmarks. Then, drive on to the UNESCO World Heritage Site of Madain Saleh where you'll visit the old Hijaz Railway station and explore the magnificent tombs of the 'second Petra'. Madain Saleh tourist site was anciently known as Hegra or Al-Hijr, and was built by the Nabataean Arabs to protect their lucrative trade route with south Arabia. These fabulously situated tombs had been 'lost' to the world until their 'rediscovery' in 1876. After lunch on a date farm the day concludes with a thrilling 4WD safari through the fabulous Madakhil rocks.
Meals: Breakfast, Lunch & Dinner.
Day8: Al Ula, arrive Yanbu
Enjoy a lovely breakfast at your hotel. A morning at leisure at your desert camp.
(Optional) experience an electrifying dune buggy excursion through the magical rocky landscape of Al Ula or visit the archaeological sites of Dedan and Jabal Ikhmah.
Then, drive through the Sarawat mountains to Yanbu on the Red Sea coast.
Meals: Breakfast only.
Day9: Yanbu, arrive Jeddah
Enjoy a lovely breakfast at your hotel. The morning will be at leisure to relax and enjoy the facilities of the Movenpick Yanbu that include a ladies Spa and outdoor swimming pools (separate facilities for men and women). In the afternoon drive south to Jeddah and check-in at your hotel and enjoy the view at night of the King Fahd Fountain.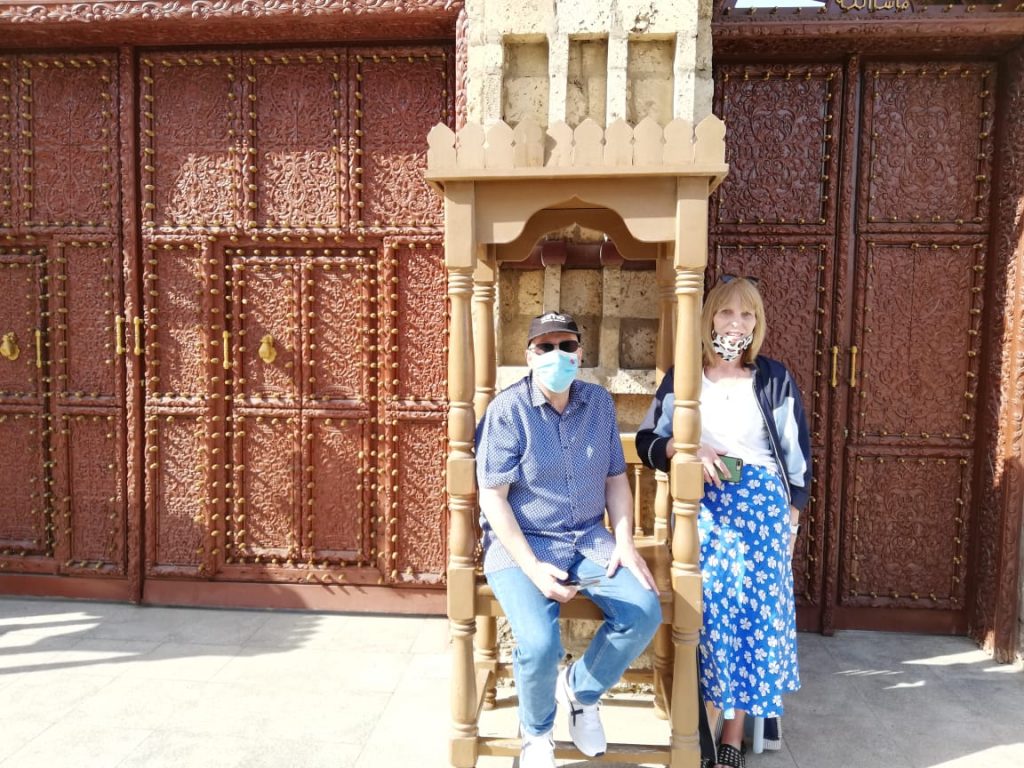 Meals: Breakfast only.
Day10: Jeddah
Enjoy a lovely breakfast at your hotel. Jeddah is known as the 'Bride of the Red Sea' and for centuries has been the port for nearby Mecca. Late this morning, meet your guide and drive along Jeddah's beautiful manicured modern seafront Corniche to the 'floating Mosque'. After a late lunch with a view of the Red Sea, the new city is juxtaposed with the old as you walk through Mecca Gate and enter Jeddah's UNESCO World Heritage-listed old quarter of Al Balad which is the historical area well known as the "Old Town", where many of the oldest families used to live and work. It boasts of old buildings, a traditional souk, and many restaurants, where visitors get to walk amid the old streets and experience the traditional landscape of the old town.
Meals: Breakfast & Lunch.
Day11: Farewell to Saudi Arabia
Enjoy a lovely breakfast at your hotel. Today a private transfer will bring to Jeddah International Airport where you will check-in for your onward flight. Farewell to Saudi Arabia!
Meals: Breakfast only.
Includes:
Accommodation as described.
All your tours and excursions are by an A/C vehicle.
English speaking tour leader/ driver.
Meals as listed in the itinerary (10 Breakfasts, 3 Lunches, 2 Dinners).
Sightseeing and entrances as per the itinerary.
Our prices include all taxes and services.
Excludes:
International Airfare.
Saudi Arabia entry visa. (We can provide you with your visa upon arrival at your request).
Any meals other than described in the itinerary.
Beverages or any drinks not referred to above.
Tipping
Important Note :
We accept all methods of secure payment: Visa, MasterCard, PayPal, direct bank transfer.
Kindly note that the hotel rating in Saudi is not the same as in USA or Europe, so Luxury or Ultimate Luxury hotel options are always recommended.
Accommodation Plan (A) 5 stars:
Riyadh: (Shaza Riyadh // Rosh Rayhaan by Rotana // Four Points By Sheraton Riyadh Khaldia)
Jeddah:(Prime Hotel – Jeddah, Al Hamra // Radisson Blu Hotel, Jeddah Al Salam // Sheraton Jeddah Hotel // Mövenpick Hotel Tahlia Jeddah )
| | | | |
| --- | --- | --- | --- |
| | 3 Stars | 4 Stars | 5 Stars |
| Price per person in DBL or TRPL Room | 3300$ | 3575$ | 4725$ |
| Solo traveler | 5280$ | 5720$ | 7560$ |
Accommodation Plan (B) Luxury (Sapphire Hotels):
Riyadh: Rosh Rayhaan – Deluxe room.
Sakaka: Al Nusl Hotel – Superior room.
Hail: The Millennium Hotel – Superior room.
Al Ula: Shaden MGallery – Superior room.
Jeddah: interContinental – Deluxe room.
| | |
| --- | --- |
| | All year round |
| price per person in dbl room | 5000$ |
| Solo traveler | 8000$ |
Accommodation Plan (c) Ultimate Luxury (Diamond Hotels):
Riyadh: Four Seasons Hotel Riyadh – Superior room.
Sakaka: Al Nusl Hotel – Suite.
Hail: The Millennium Hotel – Deluxe room.
Al Ula: Shaden MGallery – superior room.
Jeddah: Park Hyatt Jeddah – Marina, Club & Spa – Sea view room.
| | |
| --- | --- |
| | All year round |
| price per person in dbl room | 6600$ |
| Solo traveler | 10560$ |
Travel Insurance – from AIG
Secure your trip and give yourself greater peace of mind with the Travel Insurance program proposed by AIG for you. For more info visit www.aig.com
One week 50$ per person
More than one week 75 $ per person.
Saudi Sim Card
if you plan to get a Saudi sim card we would advise you to get it at the airport when you arrive. as it will be much easier to buy it from the airport other than anywhere else as they request more documents if you decide to buy it later from anywhere else.
Our Tour Leader/Driver
We don't only choose qualified and professional Tour leader/ Drivers but also choose those who are friendly, with a sense of humor who are committed to offering a superior level of service so you can enjoy your time with them.
How To dress
Both men and women are asked to dress modestly in public, avoiding tight-fitting clothing. Women should cover shoulders and knees in public.
Your passport
You should keep your passport with you during any tour you will be making in Saudi Arabia. don't leave it in your hotel room as some times they request to see your passport or visa.