Tour Highlights
Diriyah & Riyadh
Explore Rijal Almaa village in Asir.
Fly to Bisha, arrive Abha
Al Namas, arrive Baljurashi
The Marble Village of Dhee Ayn
Al Bahah, Taif, arrive Jeddah
Train to Medina, Al Buwayr, Khaybar, arrive at Al Ula
Al Ula, Arrive Tabuk
Wadi Tayyib Al Ism, Mughair Shuaib, Wadi Zeeta
Route Map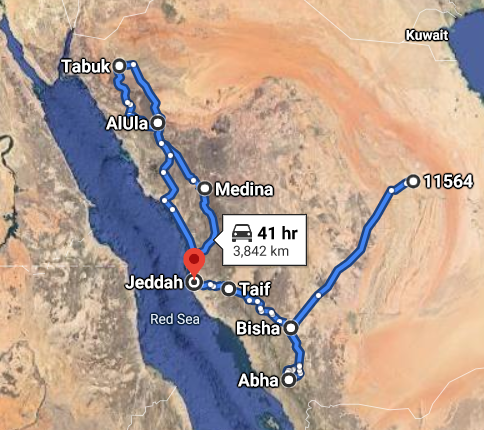 Day1: Arrive Riyadh, Saudi Arabia
Your Tour leader/ Driver will be waiting for you. They will be holding a sign of SaudiArabiaTours, You do not need to look for them – they will be waiting for you and will find you.
You will be transferred by an A/C car to your hotel. Overnight in Riyadh.
Day2: Diriyah & Riyadh
From the moment your tour starts, your tour leader will give you full attention. Once in the car, your tour leader will talk to you about all the things on the way as well as other aspects of your tour that will interest you.
Step back in time and discover the World Heritage Site of Diriyah where the story of modern Saudi Arabia began. Within Diriyah's historic Al Turaif district you'll see stunning examples of traditional Najdi mudbrick architecture and get a sense of the way of life in the first Saudi capital some two hundred years ago. some sites like the mud houses can be visited only from outside as there are some renovation works now. Some sites like the mud houses can be visited only from outside as there are some renovation works now.
Your journey continues this afternoon through an Acacia studded desert towards the Jebel Fihrayn also known as Edge of the world. Standing atop the 1,000-foot high escarpment at Jabal Fihrayn, you find stretching before you an uninterrupted view of the horizon in all directions, leaving you with the impression that you are, indeed, standing at the very edge of the world. The effect on one's body and mind and soul is exhilarating.
These cliffs rise dramatically from the desert, stretching toward the sky like a great natural wall. When you stand atop them and look toward the horizon, you have a prime view of the sky as it seems to melt into the barren earth.
The Edge of the World Saudi Arabia (Jebel Fihrayn) is an unexpected and dramatic geological wonder in the rocky desert northwest of Riyadh, Saudi Arabia. The site earned its nickname because from atop the escarpment, you have an uninterrupted view of the horizon.
It's part of the much longer Tuwaiq Escarpment and drops down 1,000 feet into an ancient ocean bed. While standing on the cliffs, you'll spot dried rivers weaving across the land, and see camels moving far below. These camels and their herders are following a well-trodden path, as an ancient caravan route once passed within its shadow.
Travel in comfort back to your hotel, Riyadh has so much to see, feel, eat and buy so if you have time and want to add more to your itinerary – just let us know what you are interested in and we will arrange it for you.
(Optional ) Riyadh Food Tour, Start at 4:00 pm.
To enjoy the real taste of Saudi Arabia you have to try the original Saudi Arabian food Tour. Enjoy the best local food in Saudi Arabia which is one of life's great pleasures, Discover off-the-beaten-path spots the real Saudi Arabia that is not covered in any guidebook.
Meals: Breakfast & Lunch.
Day3: Fly to Bisha, arrive Abha
Enjoy a lovely breakfast at your hotel. Fly south to Bisha, also known as Qal`at Bishah (Qalʿat Bīšah), is a town in the south-western Saudi Arabian province, 'Asir. and drive through the desert to view the dramatically sited 'hanging village' of Habala, owes its name to the fact that it is built on the side of a very steep cliff face. This ancient village was earlier accessible only by rope and it is believed that the villagers who fled the Ottomans lived here. Enjoy a glimpse of Saudi Arabia's past while you spend time at this abandoned village. Nearby, in the small mountain village of Tamniah where you'll see several examples of square fort-like Asir buildings with their rings of slate. One house has been turned into a museum with traditional colourful interiors and distinctive Al-Qatt Al-Asiri geometric designs. Your visit complete, drive through the boulder-strewn Al Dalaghan Park to Abha – the regional capital.
(Optional) Riyadh By Night Tour
Start your tour in Riyadh Winter Wonderland, you can see how Saudi locals men and women have fun. you would be surprised. Riyadh Winter Wonderland is held on an open space of 200,000 square meters and includes the largest skating rink in the Middle East. With celebrities attending from all over the world, the winter celebration offers several games, competitions, and performances, not mentioning the shopping opportunities and the exceptional gastronomic experience to be had at the many diners there.
Meal: Breakfast only.
Day4: Abha, Jabal Soudah, Rijal Almaa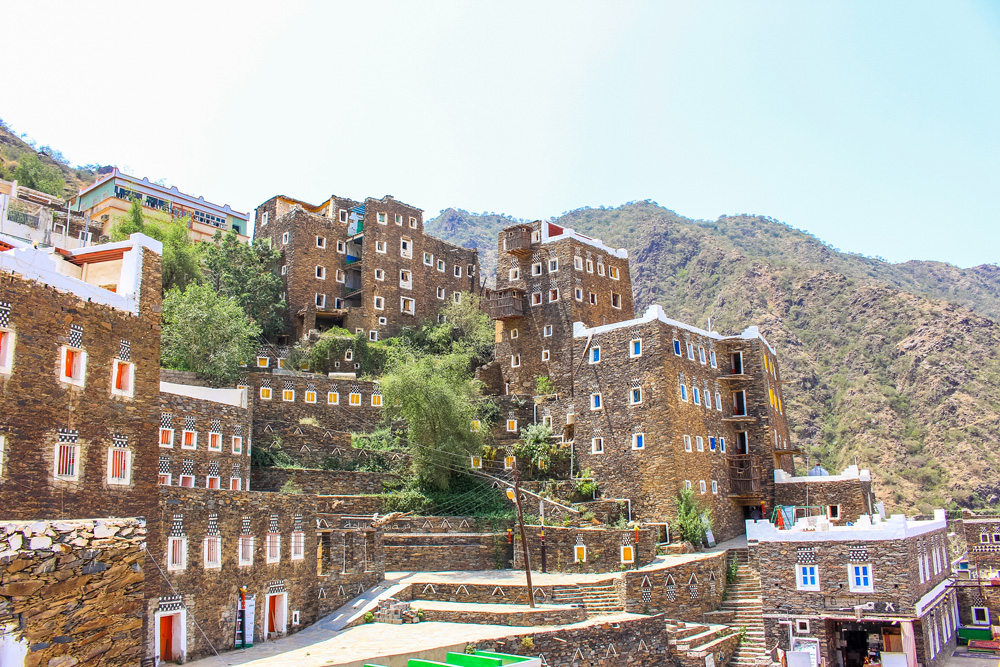 Enjoy a lovely breakfast at your hotel. Today you'll discover more of Asir's beautiful mountains and unique architecture. Sightseeing will start at Abha's colourful Muftaha Village, The Muftaha Village that was in a state of neglect was re-built based on inspirations from Asir's heritage and culture. It was built using the traditional methods of construction with local mud and stones, You will be enjoying the traditional coloured houses of the Muftaha village, It's a great chance for photos lover.
then continues through mountainous Jabal Soudah to Rijal Almaa – The village has stunning sceneries with a great history of the region. For its exceptional features, Rijal Alma' is today on the tentative list of UNESCO World Heritage. You will find there a place redolent with history and tradition and clearly oriented to tourism. It's a paradise for photographers and photos lovers and our tour leader will take you to the best panoramic spots for photos. before returning to Abha.
Meals: Breakfast & Lunch.
Day5: Al Namas, arrive Baljurashi
Enjoy a lovely breakfast at your hotel. Travel north along the spine of the green mountains on an incredibly scenic journey towards the verdant beauty spot of Al Namas where you'll visit the dramatically sited Al Maqar museum, The Museum of the Al-Maqar Palace. The museum is unique in many ways as the attention given to the details is simply outstanding. In the building, every floor is dedicated to a separate era and all the artifacts that are displayed on that specific floor belong to that era. Then, proceed to the popular summer resort of Baljurashi where Saudis flock to enjoy the cool climate, forests and scenery that is reminiscent of the mountains of Greece. A far cry from the stereotypical arid deserts for which the Kingdom is known!
Meals: Breakfast & Lunch.
Day6: The Marble Village of Dhee Ayn
Enjoy a lovely breakfast at your hotel. Start your tour visiting The Marble Village of Dhee Ayn. It's an amazing place, Reminds the quality of ancient civilization. The quality of the building is remarkable. The village was named by the name of the water that flows from the nearby mountains without interruption. Dhee Ain is famous for its fruits and banana plantations which still grow there. The village dates back about 400 years, and it witnessed the battles between the Ottoman Turks and its inhabitants.
Incredible the ability to explore and experience this piece of local history is almost unprecedented in the world.
Then visiting the Saturday Historical Market Baljurashi. Its an old popular market is held on Saturday every week in the morning and it is considered a very old heritage market where people come for sale and purchase, but it develops after entering the life of the city and it is now selling heritage items, birds and various things. You will learn more about the city's history and social life.
Then Drive to Raghadan Forest Park. It is a natural wild forest that was developed by the municipality of Albaha region. You would be able to walk into the forest area. The park is designed well with parking places next to each play area. lots of space for the whole family to enjoy.
At the end visit the mountains of Al- Surat for Visit Al Mud Village. Drive to the next visit to Khairah Forest Park.
Meals: Breakfast & Lunch.
Day7: Al Bahah, Taif, arrive Jeddah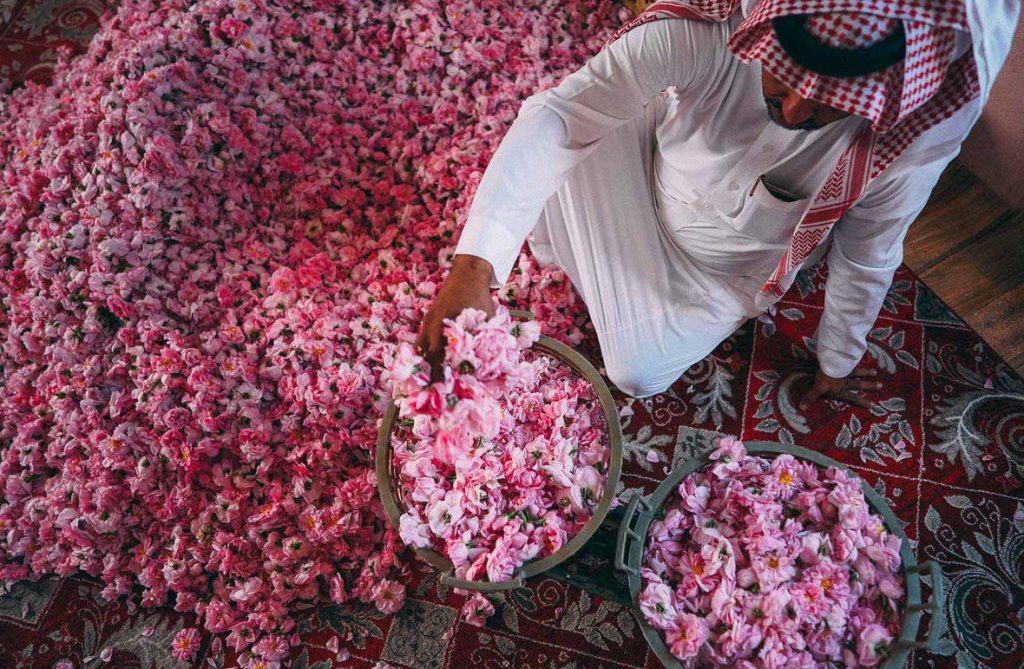 Enjoy a lovely breakfast at your hotel. Drive to Al Raghadan Park outside the city of Al Bahah city to enjoy another most unexpected Saudi Arabian visit: an extensive green forested mountainside. The journey continues north through the mountains to Al Hada where you'll see the famous baboons. It's considered one of the most beautiful and important mountain roads in the region. It connects Taif city with the other regions on the west and north. It acquires enchanting and attractive views. Next, tour a rosewater factory and visit the summer resort of Taif where you will view the landmark Shubra Palace,
The palace is the most stunning vestige of old Taif, with latticework windows and balconies and interior marble from Carrara. King Abdul Aziz used to stay here and the palace was later the residence of King Faisal. A unique amalgamation of Arabic and Romanian architecture. It is impressive worth photographing.
before continuing the journey to Jeddah on the Red Sea coast.
Meal: Breakfast only.
Day8: Jeddah
Enjoy a lovely breakfast at your hotel. Jeddah is known as the 'Bride of the Red Sea' and for centuries has been the port for nearby Mecca. Late this morning, meet your guide and drive along Jeddah's beautiful manicured modern seafront Corniche to the 'floating Mosque'. After a late lunch with a view of the Red Sea, the new city is juxtaposed with the old as you walk through Mecca Gate and enter Jeddah's UNESCO World Heritage-listed old quarter of Al Balad which is the historical area well known as the "Old Town", where many of the oldest families used to live and work. It boasts of old buildings, a traditional souk, and many restaurants, where visitors get to walk amid the old streets and experience the traditional landscape of the old town.
Meal: Breakfast only.
Day9: Train to Medina, Al Buwayr, Khaybar, arrive Al Ula
Enjoy a lovely breakfast at your hotel. Board a High-Speed train and travel through the desert to Medina. On meeting your guide, drive the short distance to Al Buwayr where an entire WW1 train lies abandoned next to the old Hijaz railway station. AlUla has long been a place of journey, travel and exploration; Hijaz Railway station construction began in 1900, reaching Madinah in 1908 and opening in Damascus in 1913. As a result of World War I, the railway's full 1,300 planned kilometres were never completed. The journey then continues north to the ancient oasis of Khaybar which is surrounded by dark flows of lava. Prior to the advent of Islam, Khaybar was inhabited by Jewish tribes. After a walk through the crumbling mudbrick lanes of the old city you'll proceed to Al Ula and your desert camp.
Meals: Breakfast, Lunch & Dinner.
Day10: Al Ula & Hegra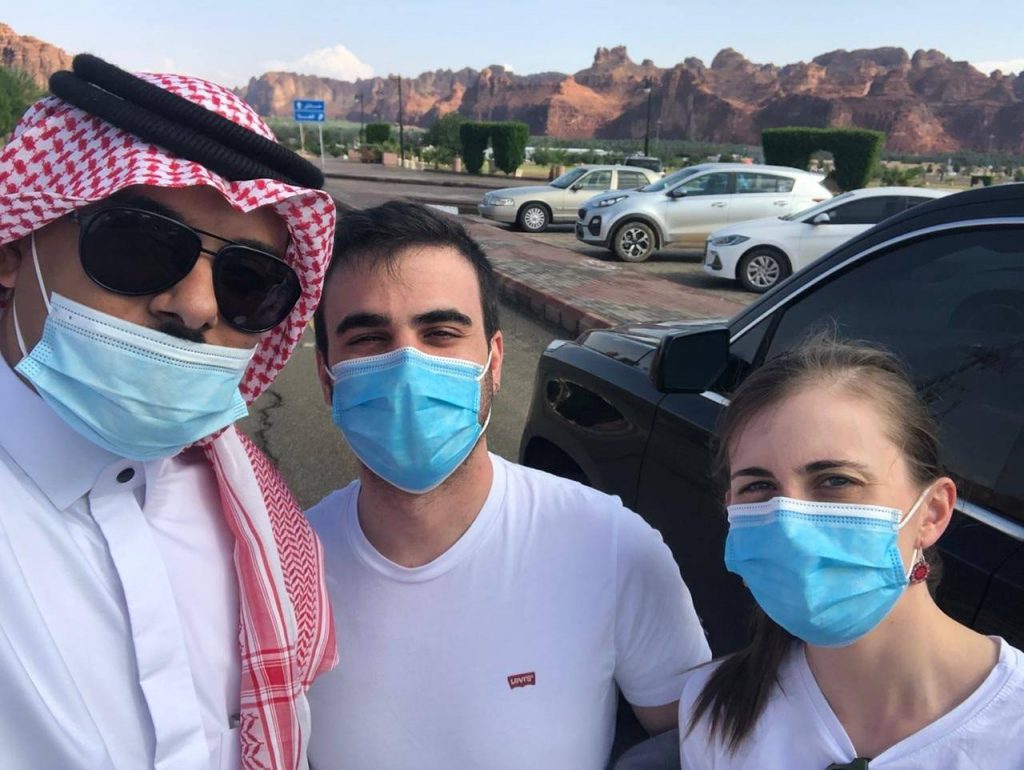 Enjoy a lovely breakfast at your hotel. An hour's walk in the cool morning air along with Elephant Rock, also known as Jabal AlFil, one of AlUla's many geological marvels. Enjoy Elephant Rock, This spectacular rock formation resembles an elephant with its trunk touching the ground, is one of Al Ula's geomorphological wonders became one of AlUla iconic landmarks. Then, drive on to the UNESCO World Heritage Site of Madain Saleh where you'll visit the old Hijaz Railway station and explore the magnificent tombs of the 'second Petra'. Madain Saleh tourist site was anciently known as Hegra or Al-Hijr, and was built by the Nabataean Arabs to protect their lucrative trade route with south Arabia. These fabulously situated tombs had been 'lost' to the world until their 'rediscovery' in 1876. After lunch on a date farm the day concludes with a thrilling 4WD safari through the fabulous Madakhil rocks.
Meals: Breakfast, Lunch & Dinner.
Day11: Al Ula, arrive Tabuk
Enjoy a lovely breakfast at your hotel. Your sightseeing begins with a walk through the atmospheric ruins of Old Al Ula, a mudbrick village that was inhabited until the 1970s.
In the 12th century, AlUla Old Town became an essential settlement along the pilgrimage route from Damascus to Makkah. The city gradually replaced Qurh, to the south of AlUla, and is favourably mentioned by travellers from the 12th to the 20th centuries, when modern AlUla was constructed nearby. Nearby, is Al-Khuraibba where the famous Lion Tombs of ancient Dadan are chiselled into the cliff-face. Across the valley, at Jabal Ikmah you'll then see the accomplished rock art. Then, follow the old pilgrim route and Hijaz railway towards Tabuk. Amongst the many Hijaz forts, you will pass is the impressive multi-building station of Qalaat Muazzam with its adjacent 17th century Hajj castle.
Meals: Breakfast & Lunch.
Day12: Wadi Tayyib Al Ism, Maghaer Shuaib, Wadi Zeeta
Enjoy a lovely breakfast at your hotel. Today you'll discover the natural beauty and heritage of the ancient land of Midian. The day starts with a drive to the shores of the Gulf of Aqaba where you'll have a short hike through the stunning gorge of Wadi Tayyib Al Ism – one of Saudi Arabia's great natural wonders. Next, travel along a cliff-girt coastline and explore the 2,000-year-old tombs of Midian (Maghaer Shuaib), which was once a major emporium on the incense route. The Maghaer Shuaib seems to appear from nowhere in the reddish desert west of Tabuk — its elegantly carved facades and tombs built into the sandstone rocks recalling Petra in Jordan and Hegra at Al Ula. Having fled Egypt, Moses lived here a decade under the patronage of the Prophet Shuaib, who had been impressed by Moses' chivalry and offered his daughter's hand in marriage. Moses eventually returned to Egypt, but it's easy to imagine that this beautiful place stayed with him.
A 4WD adventure in Wadi Zeta navigating through a maze of enormous sandstone monoliths and racing across belts of soft sand completes your sightseeing.
Meals: Breakfast & Lunch.
Day13: Fly to Jeddah
Enjoy a lovely breakfast at your hotel. Transfer to Tabuk Airport and fly to Jeddah. You'll be met on arrival and transferred to your hotel. After check-in the remainder of the day will be at leisure to relax or explore on an independent basis.
Meal: Breakfast only.
Day14: Farewell to Saudi Arabia
Enjoy a lovely breakfast at your hotel. Today a private transfer will bring to Jeddah International Airport where you will check-in for your onward flight. Farewell to Saudi Arabia!
Meal: Breakfast only.
Includes:
Accommodation as described.
All your tours and excursions are by an A/C vehicle.
English speaking tour leader/ driver.
Meals as listed in the itinerary (13 Breakfasts, 8 Lunches, 2 Dinners).
Domestic flights in Economy Class (Riyadh/Bisha, Tabuk/Jeddah).
Train ticket in Standard Class (Jeddah/Medina).
Sightseeing and entrances as per the itinerary.
Our prices include all taxes and services.
Excludes:
International Airfare.
Saudi Arabia entry visa. (We can provide you with your visa upon arrival at your request).
Any meals other than described in the itinerary.
Beverages or any drinks not referred to above.
Tipping
Important Note :
We accept all methods of secure payment: Visa, MasterCard, PayPal, direct bank transfer.
Kindly note that the hotel rating in Saudi is not the same as in USA or Europe, so Luxury or Ultimate Luxury hotel options are always recommended.
Accommodation Plan (A) 5 stars:
Riyadh: (Shaza Riyadh // Rosh Rayhaan by Rotana // Four Points By Sheraton Riyadh Khaldia)
Jeddah:(Prime Hotel – Jeddah, Al Hamra // Radisson Blu Hotel, Jeddah Al Salam // Sheraton Jeddah Hotel // Mövenpick Hotel Tahlia Jeddah )
| | | | |
| --- | --- | --- | --- |
| | 3 Stars | 4 Stars | 5 Stars |
| Price per person in DBL or TRPL Room | 5040$ | 5460$ | 8820$ |
| Solo traveler | 8065$ | 8735$ | 10585$ |
Accommodation Plan (B) Luxury (Sapphire Hotels):
Riyadh: Rosh Rayhaan – Deluxe room.
Abha : Blue inn Botique – Superior room.
Baljurashi: National Park Hotel– Superior room.
Jeddah: interContinental – Deluxe room.
Al Ula: Shaden MGallery – Superior room.
Tabuk: The Grand Millennium – Deluxe room.
| | |
| --- | --- |
| | All year round |
| price per person in dbl room | 10150 |
| Solo traveler | 16240$ |
Accommodation Plan (c) Ultimate Luxury (Diamond Hotels):
Riyadh: Four Seasons Hotel Riyadh – Superior room.
Abha : Blue inn Botique – Deluxe.
Baljurashi: National Park Hotel– Superior room.
Al Ula: Shaden MGallery – Deluxe.
Jeddah: Park Hyatt Jeddah – Marina, Club & Spa – Sea view room.
Tabuk: The Grand Millennium – Deluxe room.
| | |
| --- | --- |
| | All year round |
| price per person in dbl room | 12600$ |
| Solo traveler | 20160$ |
Travel Insurance – from AIG
Secure your trip and give yourself greater peace of mind with the Travel Insurance program proposed by AIG for you. For more info visit www.aig.com
One week 50$ per person
More than one week 75 $ per person.
Saudi Sim Card
if you plan to get a Saudi sim card we would advise you to get it at the airport when you arrive. as it will be much easier to buy it from the airport other than anywhere else as they request more documents if you decide to buy it later from anywhere else.
Our Tour Leader/Driver
We don't only choose qualified and professional Tour leader/ Drivers but also choose those who are friendly, with a sense of humor who are committed to offering a superior level of service so you can enjoy your time with them.
How To dress
Both men and women are asked to dress modestly in public, avoiding tight-fitting clothing. Women should cover shoulders and knees in public.
Your passport
You should keep your passport with you during any tour you will be making in Saudi Arabia. don't leave it in your hotel room as some times they request to see your passport or visa.