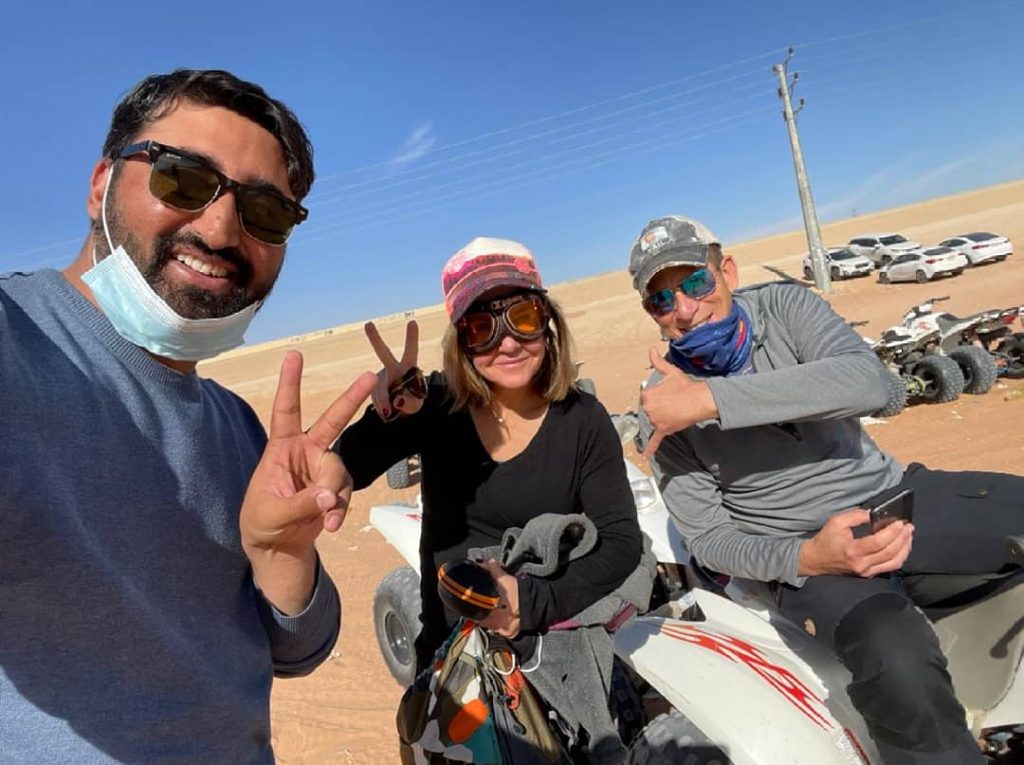 Tour Highlights
Diriyah & Riyadh
Ushaiger, arrive Unaizah
Buraidah, Hutaymah Crater, arrive Hail
Jubbah, Rajajil, arrive Sakaka
Domat Al Jandal, arrive Tabuk
Wadi Tayyib Al Ism, Midian, Wadi Zeeta
Wadi Al Disah, arrive Al Ula
Al Ula & Hegra
Hijaz Railway, arrive Medina. Train to Jeddah
Jeddah, Bride of the red sea
Al Hada, Taif, Al Bahah, arrive Baljurashi
Shada Mountain & Zee Ain
Abha, Jabal Soudah, Rijal Almaa
Khamis Mushait, Habala, arrive Bisha. Fly to Riyadh
Route Map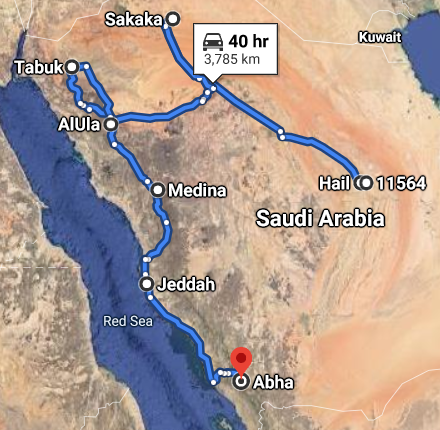 Day1: Arrive Riyadh, Saudi Arabia
Your Tour leader/ Driver will be waiting for you. They will be holding a sign of SaudiArabiaTours, You do not need to look for them – they will be waiting for you and will find you.
You will be transferred by an A/C car to your hotel. Overnight in Riyadh.
Day2: Diriyah & Riyadh
From the moment your tour starts, your tour leader will give you full attention. Once in the car, your tour leader will talk to you about all the things on the way as well as other aspects of your tour that will interest you.
Step back in time and discover the World Heritage Site of Diriyah where the story of modern Saudi Arabia began. Within Diriyah's historic Al Turaif district you'll see stunning examples of traditional Najdi mudbrick architecture and get a sense of the way of life in the first Saudi capital some two hundred years ago. some sites like the mud houses can be visited only from outside as there are some renovation works now. Some sites like the mud houses can be visited only from outside as there are some renovation works now.
Your journey continues this afternoon through an Acacia studded desert towards the Jebel Fihrayn also known as Edge of the world. Standing atop the 1,000-foot high escarpment at Jabal Fihrayn, you find stretching before you an uninterrupted view of the horizon in all directions, leaving you with the impression that you are, indeed, standing at the very edge of the world. The effect on one's body and mind and soul is exhilarating.
These cliffs rise dramatically from the desert, stretching toward the sky like a great natural wall. When you stand atop them and look toward the horizon, you have a prime view of the sky as it seems to melt into the barren earth.
The Edge of the World Saudi Arabia (Jebel Fihrayn) is an unexpected and dramatic geological wonder in the rocky desert northwest of Riyadh, Saudi Arabia. The site earned its nickname because from atop the escarpment, you have an uninterrupted view of the horizon.
It's part of the much longer Tuwaiq Escarpment, and drops down 1,000 feet into an ancient ocean bed. While standing on the cliffs, you'll spot dried rivers weaving across the land, and see camels moving far below. These camels and their herders are following a well-trodden path, as an ancient caravan route once passed within its shadow.
Travel in comfort back to your hotel, Riyadh has so much to see, feel, eat and buy so if you have time and want to add more to your itinerary – just let us know what you are interested in and we will arrange it for you.
(Optional ) Riyadh Food Tour, Start at 4:00 pm.
To enjoy the real taste of Saudi Arabia you have to try the original Saudi Arabian food Tour. Enjoy the best local food in Saudi Arabia which is one of life's great pleasures, Discover off-the-beaten-path spots the real Saudi Arabia that is not covered in any guidebook.
Meal: Breakfast only.
Day3: Ushaiger, arrive Unaizah
Enjoy a lovely breakfast at your hotel. Drive north to the Ushaiger Heritage Village, where introduce you to the charming nature and ancient architecture of Saudi Arabia, While also giving you the opportunity to experience Saudi customs and traditions. Hidden in the heart of the Najd, an oasis-dotted region 200 km northwest of Riyadh, Ushaiger Heritage Village provides a glimpse of a slow-paced Saudi society of old.
Bedouins first settled here 1,500 years ago and Ushaiqer quickly became a popular stopping point for pilgrims crossing to Makkah, thanks to its springs and low-brimmed olive and palm groves. Ushaiqer – which, in a naming quirk, means 'little blonde' to reflect the nearby red mountain that looms over the yellow mud houses – still has a small community of residents, making use of its schools, shops and mosques. To walk its narrow lanes is to enter a living museum, draped with traces of an ancient way of life.
Encased in thick walls, Ushaiqer is a labyrinth of winding alleyways, shaded pathways and timber-framed walkways, crossing between hundreds of mud houses. The village is divided into districts and bisected by groves of palm trees, and includes a cluster of beautifully renovated houses. These offer a stunning example of Najdi architecture, with its distinctive triangular windows and roofs, and ornately carved wooden doors. Some still bear the names of the families who lived there.
Then, stroll through the peaceful fields that surround the village before continuing your journey to Unaizah where your hotel has been inspired by the local Qassimi architecture and is set amongst the palms of a working date plantation.
(Optional) Riyadh By Night Tour
Start your tour in Riyadh Winter Wonderland, you can see how Saudi locals men and women have fun. you would be surprised. Riyadh Winter Wonderland is held on an open space of 200,000 square meters and includes the largest skating rink in the Middle East. With celebrities attending from all over the world, the winter celebration offers several games, competitions, and performances, not mentioning the shopping opportunities and the exceptional gastronomic experience to be had at the many diners there.
Meals: Breakfast & Lunch.
Day4: Buraidah, Hutaymah Crater, arrive Hail
Enjoy a lovely breakfast at your hotel. Rise early to visit one of Saudi Arabia's most colourful and photogenic spectacles – the Buraidah Camel Market – The camel has a special place in the Bedouin culture. In the outskirts of Buraydah in Al-Qassim, across two square miles, lies the largest camel market in the world where some 700 animals are traded daily (swelling to two thousand animals on Saturdays). The noise and theatre as dealers attract eager huddles of merchants as they auction camels that can reach as much as one million US$ is incredible! Then, visit the nearby high-tech Camel Hospital and have coffee in a beautiful date garden. Drive on to the massive Hutaymah Crater – the result of a volcanic explosion millions of years ago – before continuing to Ha'il.
Meal: Breakfast only.
Day5: Jubbah, Rajajil, arrive Sakaka
Enjoy a lovely breakfast at your hotel. Travel through the red sands of the Great Nefud Desert to reach the UNESCO World Heritage Site of Jubbah.
Jubbah is one of the most interesting places of Saudi Arabia. It is believed that camel figures carved at Jubbah are the oldest in the Arabian Peninsula. These rock carvings date back to approx. 4000 years.
Jubbah lies on an ancient lake bed that measures at least 20 km by 4 km with its full extent concealed beneath wind-swept sand on its northern, southern and eastern boundaries. Jubbah is surrounded by large sandstone outcrops that are filled with ancient petroglyphs and inscriptions on the rock face.
Here, on the walls of Jabal Umm Sinman, the finely accomplished rock art may be as much as 11,000 years old and sheds light on human activities, hairstyles and clothing during the Palaeolithic period. Continue through the desert this afternoon towards Sakaka in A Jawf Province where you will complete the day's sightseeing at the standing stones of Al Rajajil – Saudi Arabia's 'Stonehenge.' These 6,000-year-old stele carved from sandstone – some of which are as tall as three metres and weigh as much as five tons – are an enigma to archaeologists.
Meals: Breakfast & Lunch.
Day6: Domat Al Jandal, arrive Tabuk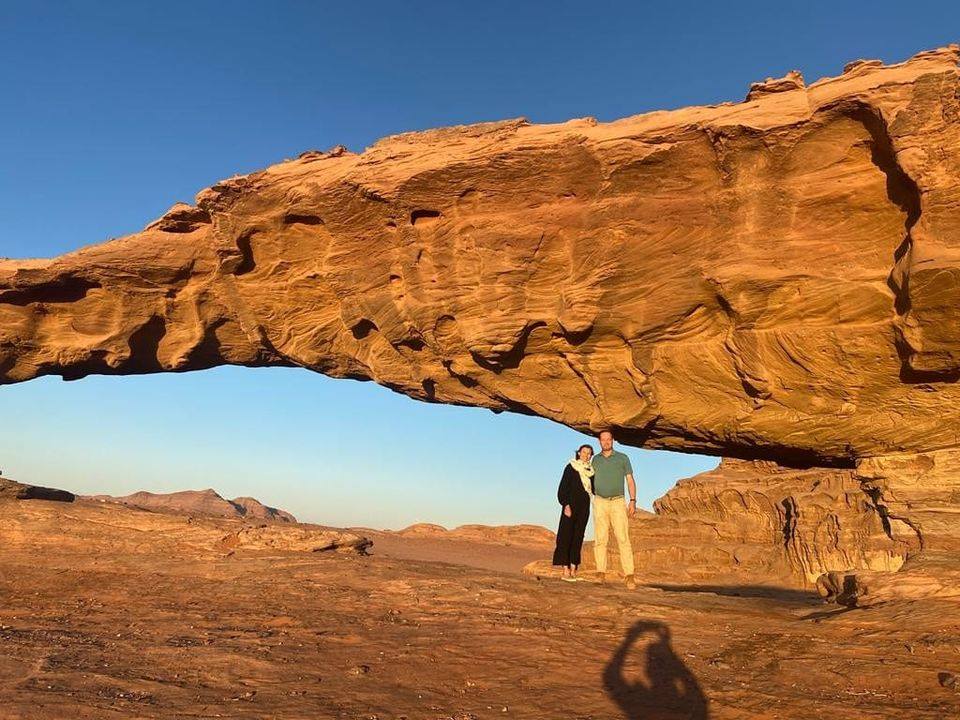 Enjoy a lovely breakfast at your hotel. View the Za'abal castle in Sakaka, then drive to nearby Domat Al Jandal to see an outstanding example of an early Islamic town that was already an important commercial centre in the 9th century BC. Dumat al-Jandal, also known as Al-Jawf or Al-Jouf, is an ancient city of ruins and the historical capital of the Al Jawf Province, North Western Saudi Arabia. The name Dumat al-Jandal means literally "Dumah of the Stone", since this was the territory of Dumah, one of the twelve sons of Ishmael; the name Al-Jawf means "depression", referring to Wadi Sirhan.
Domat Al Jandal is dominated by the Al Marid castle, a vast circular walled fortress with foundations dating back to the 1st century AD. The castle is said to have once been connected by a tunnel to the 7th century Umar Ibn al-Khattab Mosque – one of the oldest intact mosques in the world. Next, explore the well-preserved Al-Der residential quarter with its long alleys and impressive stone architecture to see a rare early example of town planning, and visit Domat Al Jandal Lake. This afternoon travel west through the desert to Tabuk.
Meal: Breakfast only.
Day7: Wadi Tayyib Al Ism, Midian, Wadi Zeta
Enjoy a lovely breakfast at your hotel. Travel through the ancient land of Midian to reach the spectacular gorge of Wadi Tayyib Al Ism (Valley of Moses) on the shores of the Gulf of Aqaba. Some claim this is where Moses arrived in Arabia after escaping from Pharaoh's army and crossing the Red Sea. On arrival, you'll be able to enjoy a short hike and a picnic lunch. The scenic journey continues to the 'Springs of Moses' at Magna and Al Bada where you'll see the tombs of ancient Midian also known as Mughair Shoaib, The Maghaer Shuaib seems to appear from nowhere in the reddish desert west of Tabuk — its elegantly carved facades and tombs built into the sandstone rocks recalling Petra in Jordan and Hegra at Al Ula. Having fled Egypt, Moses lived here a decade under the patronage of the Prophet Shuaib, who had been impressed by Moses' chivalry and offered his daughter's hand in marriage. Moses eventually returned to Egypt, but it's easy to imagine that this beautiful place stayed with him. before returning to Tabuk via the canyons and magnificently weathered sandstone rocks of Wadi Zeta.
Meals: Breakfast & Lunch.
Day8:Wadi Al Disah, arrive Al Ula
Enjoy a lovely breakfast at your hotel. Saudi Arabia Tours' tour leader will be waiting for you. Leaving Tabuk behind you, We will take you to Wadi Al Disah is a mountainous area located in the southwest Province of Tabuk (260 km). Wadi Al Disah is a beautiful mountainous valley in Saudi Arabia's northwestern Tabuk province. Al Disah translates to "the valley of palm trees", and when you arrive here you'll see exactly why. The luscious valley floor is surrounded by massive sandstone cliffs and pillars that are perfect for exploration. The Al Disah Valley extends for some 15km and is framed by giant columns of rock and perpendicular smooth cliffs that rise up above the lush vegetation, water pools and palm trees. This beautiful spot for hiking and off-roading also contains several archaeological sites that include a Nabataean tomb. After an al fresco picnic lunch you'll drive on to Al Ula – the location of your desert camp.
Meals: Breakfast, Lunch & Dinner.
Day9: Al Ula & Hegra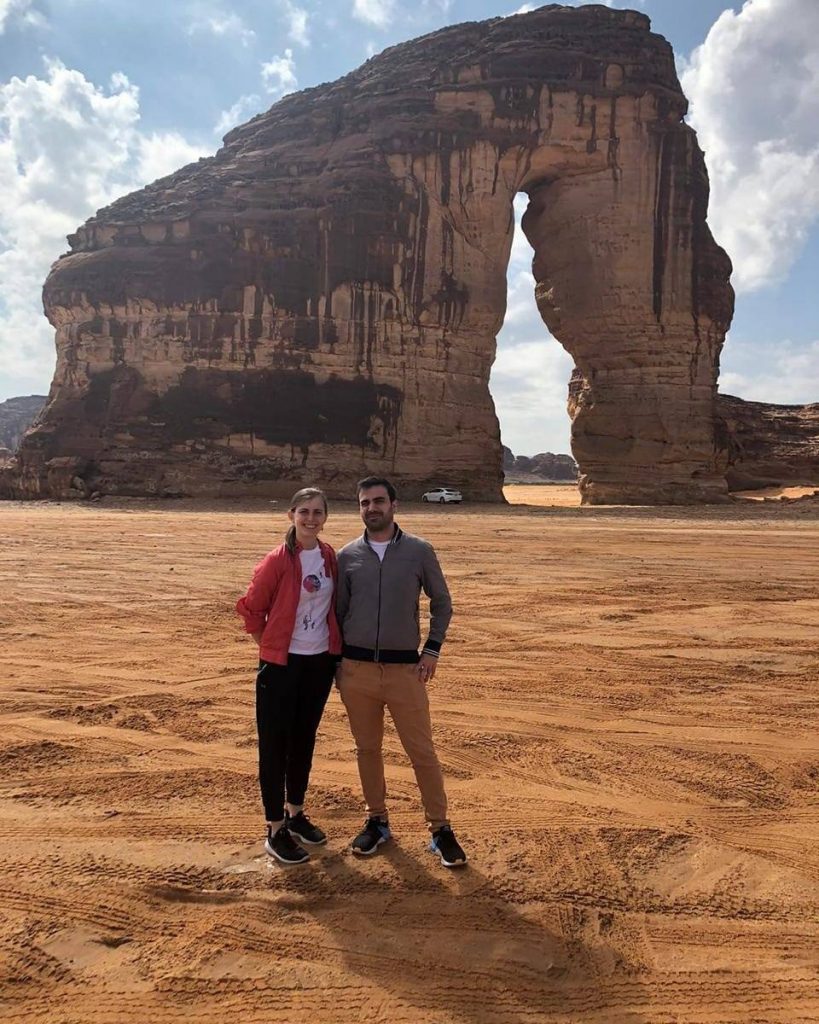 Enjoy a lovely breakfast at your hotel. An hour's walk in the cool morning air along with Elephant Rock, also known as Jabal AlFil, one of AlUla's many geological marvels. Enjoy Elephant Rock, This spectacular rock formation resembles an elephant with its trunk touching the ground, is one of Al Ula's geomorphological wonders became one of AlUla iconic landmarks. Then, drive on to the UNESCO World Heritage Site of Madain Saleh where you'll visit the old Hijaz Railway station and explore the magnificent tombs of the 'second Petra'. Madain Saleh tourist site was anciently known as Hegra or Al-Hijr and was built by the Nabataean Arabs to protect their lucrative trade route with south Arabia. These fabulously situated tombs had been 'lost to the world until their 'rediscovery' in 1876. After lunch on a date farm, the day concludes with a thrilling 4WD safari through the fabulous Madakhil rocks.
Meals: Breakfast, Lunch & Dinner.
Day10: Hijaz Railway, arrive Medina. Train to Jeddah
Enjoy a lovely breakfast at your hotel. Discover the old Hijaz Railway as you travel south towards Medina. Built by the Ottoman Turks to control their Arabian empire,
AlUla has long been a place of journey, travel and exploration; Hijaz Railway station construction began in 1900, reaching Madinah in 1908 and opening in Damascus in 1913. As a result of World War I, the railway's full 1,300 planned kilometres were never completed. The site dates back to the Nabataean civilisation and is spectacular. It is a Unesco World Heritage site the first in Saudi Arabia. its holds remain of Hijaz railway from Istanbul from Makkah- Madina that build by the Ottoman empire and destroyed in world war I.
The final leg of the day's journey will bring you to Medina where you'll board the High Speed Haramain train and travel to Jeddah on the Red Sea coast.
Meal: Breakfast only.
Day11: Jeddah
Enjoy a lovely breakfast at your hotel. Jeddah is known as the 'Bride of the Red Sea' and for centuries has been the port for nearby Mecca. Late this morning, meet your guide and drive along Jeddah's beautiful manicured modern seafront Corniche to the 'floating Mosque'. After a late lunch with a view of the Red Sea, the new city is juxtaposed with the old as you walk through Mecca Gate and enter Jeddah's UNESCO World Heritage listed old quarter of Al Balad. On arrival, discover the lively souqs and multi-story houses built of coral stone with their distinctive 'roshan' wooden windows that comprise one of the finest old towns in the Middle East.
Meals: Breakfast & Lunch.
Day12: Al Hada, Taif, Al Bahah, arrive Baljurashi
Enjoy a lovely breakfast at your hotel. Leaving the coast bind you, drive to Al Hada in the mountains above Mecca where you'll see the famous baboons. It's considered one of the most beautiful and important mountain roads in the region. It connects Taif city with the other regions on the west and north. It acquires enchanting and attractive views. Next, tour a rosewater factory and visit the summer resort of Taif where you will view the landmark Shubra Palace. The palace is the most stunning vestige of old Taif, with latticework windows and balconies and interior marble from Carrara. King Abdul Aziz used to stay here and the palace was later the residence of King Faisal. A unique amalgamation of Arabic and Romanian architecture. It is impressive worth photographing.
The journey continues south through the Sarawat mountains via Bin Raqoosh castle towards the scenic province of Al Bahah – known as the 'Land of one thousand and one watchtowers'. On arrival at Al Bahah city, you'll see a most unexpected Saudi Arabian vista: the extensive green forested mountainside of Al Raghadan Park, before continuing to Baljurashi.
Meal: Breakfast only.
Day13: Shada Mountain & Zee Ain
Enjoy a lovely breakfast at your hotel. Drive on to Shada mountain, where troglodytes have lived since earliest times amongst an amazing granite landscape that is believed to be one of the oldest geological formations on Earth. After viewing the remarkable cave dwellings and rock art continue to the stunning fortified stone village of Zee Ain that sites on the pedestal of marble and are surrounded by a lush oasis. Zee Ain also know as Thee Ain is an archaeological village located in Tehamat Zahran about 20 kilometres from Al-Makhwat province and 24 kilometres from the Al-Baha, it was developed in the 10th century AH/8th century CE making it more than 400 years old.
Meal: Breakfast only.
Day14: Al Namas, arrive Abha
Enjoy a lovely breakfast at your hotel. Travel south along the spine of the green mountains on an incredibly scenic journey towards the verdant beauty-spot of Al Namas where you'll visit the dramatically sited Al Maqar museum. The Museum of the Al-Maqar Palace. The museum is unique in many ways as the attention given to the details is simply outstanding. In the building, every floor is dedicated to a separate era and all the artifacts that are displayed on that specific floor belong to that era. Then, proceed to the popular summer resort of Abha in Asir Province where Saudis flock to enjoy the cool climate, forests and scenery that is reminiscent of the mountains of Greece. A far cry from the stereotypical arid deserts for which the Kingdom is known!
Meal: Breakfast only.
Day15: Abha, Jabal Soudah, Rijal Almaa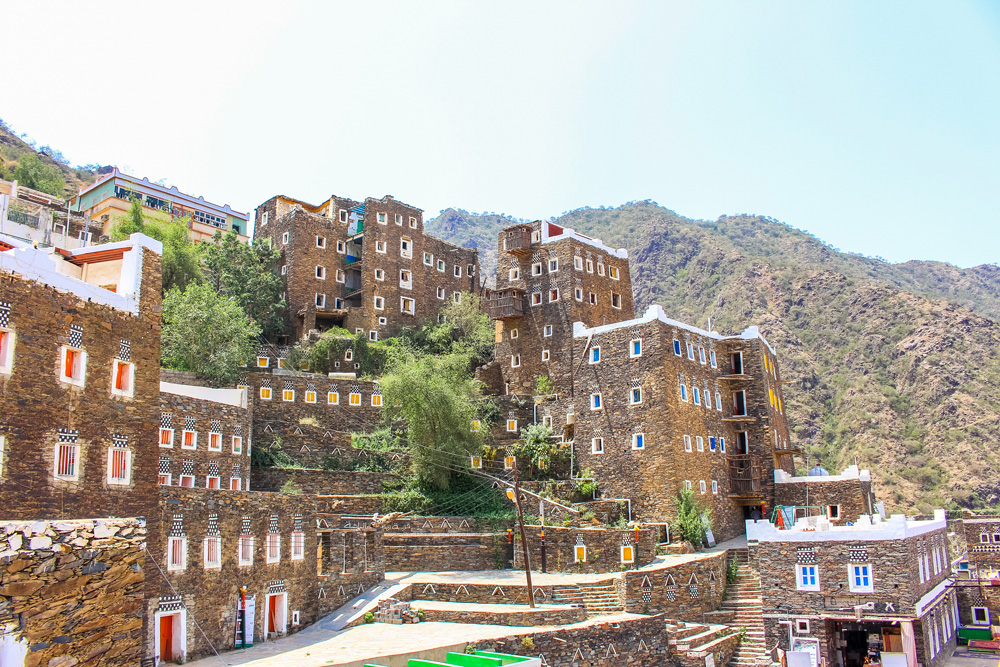 Enjoy a lovely breakfast at your hotel. Today you'll discover more of Asir's beautiful mountains and unique architecture. Sightseeing will start at Abha's colourful Muftaha Village, The Muftaha Village that was in a state of neglect was re-built based on inspirations from Asir's heritage and culture. It was built using the traditional methods of construction with local mud and stones, You will be enjoying the traditional coloured houses of the Muftaha village, It's a great chance for photos lover.
then continues through mountainous Jabal Soudah to Rijal Almaa – The village has stunning sceneries with a great history of the region. For its exceptional features, Rijal Alma' is today on the tentative list of UNESCO World Heritage. You will find there a place redolent with history and tradition and clearly oriented to tourism. It's a paradise for photographers and photos lovers and our tour leader will take you to the best panoramic spots for photos. before returning to Abha.
Meal: Breakfast only.
Day16: Khamis Mushait, Habala, arrive Bisha. Fly to Riyadh
Enjoy a lovely breakfast at your hotel. Complete your Asir sightseeing today with a visit to nearby Khamis Mushait where you'll discover the 'women's market' and 'sword market', then continue to the dramatically sited 'hanging village' of Habala. owes its name to the fact that it is built on the side of a very steep cliff face. Once only accessible by ropes, the village was originally inhabited by a tribe that was nicknamed the 'flower men' on account of the male custom of wearing dried garlands of herbs around their heads. After viewing (mist permitting) Habala from above you'll be driven north through a landscape that becomes increasingly arid as it nears Bisha and in places is covered by lava. Also known as Qal`at Bishah (Qalʿat Bīšah), is a town in the south-western Saudi Arabian province, 'Asir. Fly from Bisha to Riyadh and check in to your downtown hotel.
Meal: Breakfast only.
Day17: Farewell to Saudi Arabia
Enjoy a lovely breakfast at your hotel. A private transfer will bring you to Riyadh International Airport where you'll check-in for your onward flight.
Meal: Breakfast only.
Includes:
Accommodation as described.
All your tours and excursions are by an A/C vehicle.
English speaking tour leader/ driver.
Meals as listed in the itinerary (16 Breakfasts, 6 Lunches, 2 Dinners).
Domestic flights in Economy Class (Bisha/Riyadh).
Train ticket in Standard Class (Medina/Jeddah).
Sightseeing and entrances as per the itinerary.
Our prices include all taxes and services.
Excludes:
International Airfare.
Saudi Arabia entry visa. (We can provide you with your visa upon arrival at your request).
Any meals other than described in the itinerary.
Beverages or any drinks not referred to above.
Tipping
Important Note :
We accept all methods of secure payment: Visa, MasterCard, PayPal, direct bank transfer.
Kindly note that the hotel rating in Saudi is not the same as in USA or Europe, so Luxury or Ultimate Luxury hotel options are always recommended.
Accommodation Plan (A) 5 stars:
Riyadh: (Shaza Riyadh // Rosh Rayhaan by Rotana // Four Points By Sheraton Riyadh Khaldia)
Jeddah:(Prime Hotel – Jeddah, Al Hamra // Radisson Blu Hotel, Jeddah Al Salam // Sheraton Jeddah Hotel // Mövenpick Hotel Tahlia Jeddah )
| | | | |
| --- | --- | --- | --- |
| | 3 Stars | 4 Stars | 5 Stars |
| Price per person in DBL or TRPL Room | 6120$ | 6630$ | 10710$ |
| Solo traveler | 9790$ | 10605$ | 17135$ |
Accommodation Plan (B) Luxury (Sapphire Hotels):
Riyadh: Rosh Rayhaan – Deluxe room.
Unaizah: Al Malfa Resort – Standard room.
Hail: The Millennium Hotel – Superior room.
Sakaka: Al Nusl Hotel – Standard Room.
Tabuk: Grand Millennium Tabuk – Deluxe Room.
Al Ula: Shaden MGallery – Superior room.
Jeddah: interContinental – Deluxe room.
Baljurashi: National Park Hotel – Standard Room
Abha: Blue Inn Boutique Hotel – Standard Room (2nts)
| | |
| --- | --- |
| | All year round |
| price per person in dbl room | 12325$ |
| Solo traveler | 19720$ |
Accommodation Plan (c) Ultimate Luxury (Diamond Hotels):
Riyadh: Four Seasons Hotel Riyadh – Superior room.
Unaizah: Al Malfa Resort – Suite.
Hail: The Millennium Hotel – Deluxe room.
Sakaka: Al Nusl Hotel – Suite.
Tabuk: Grand Millennium Tabuk – Deluxe Room.
Al Ula: Shaden MGallery – superior room.
Jeddah: Park Hyatt Jeddah – Marina, Club & Spa – Sea view room.
Baljurashi: National Park Hotel – Deluxe Room
Abha: Abha Palace Hotel – Superior Room (2nts)
| | |
| --- | --- |
| | All year round |
| price per person in dbl room | 15300$ |
| Solo traveler | 24480$ |
Travel Insurance – from AIG
Secure your trip and give yourself greater peace of mind with the Travel Insurance program proposed by AIG for you. For more info visit www.aig.com
One week 50$ per person
More than one week 75 $ per person.
Saudi Sim Card
if you plan to get a Saudi sim card we would advise you to get it at the airport when you arrive. as it will be much easier to buy it from the airport other than anywhere else as they request more documents if you decide to buy it later from anywhere else.
Our Tour Leader/Driver
We don't only choose qualified and professional Tour leader/ Drivers but also choose those who are friendly, with a sense of humor who are committed to offering a superior level of service so you can enjoy your time with them.
How To dress
Both men and women are asked to dress modestly in public, avoiding tight-fitting clothing. Women should cover shoulders and knees in public.
Your passport
You should keep your passport with you during any tour you will be making in Saudi Arabia. don't leave it in your hotel room as some times they request to see your passport or visa.