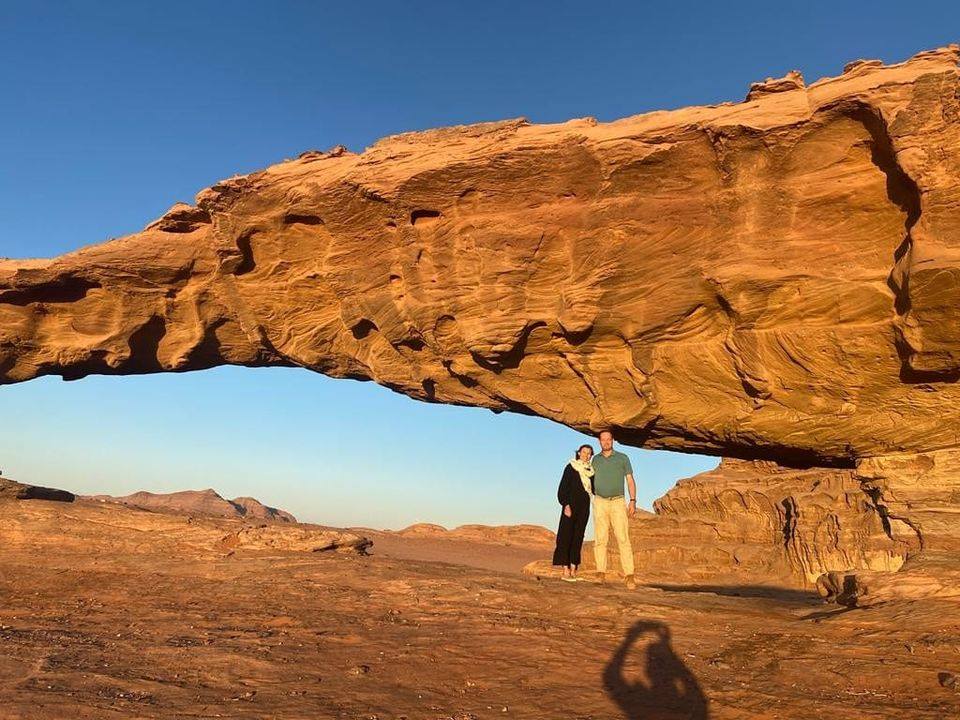 Tour Highlights:
Red sand & Edge of the world
Wadi Tayyib Al Ism (hike), Springs of Moses, Midian
Jabal Al Lawz & Wadi Bajdah
Al Ula & Hegra
Harrat Khaybar Volcanoes, arrive Medina.

Travel across the sands in an ATV.

Explore the magical scenery of Al Ula by Dune Buggy.
Drive through Wadi Al Disah's cathedral of rocks.
Route Map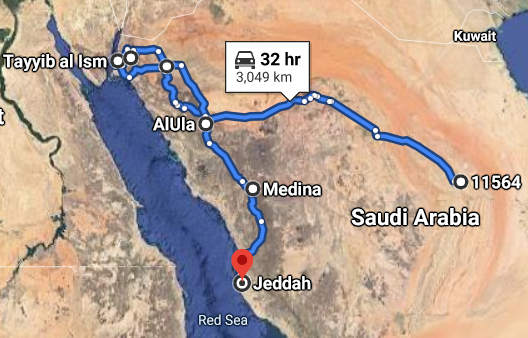 Day1: Arrive Riyadh, Saudi Arabia
Your Tour leader/ Driver will be waiting for you. They will be holding a sign of SaudiArabiaTours, You do not need to look for them – they will be waiting for you and will find you.
You will be transferred by an A/C car to your hotel. Overnight in Riyadh.
Day2: Red Sands & Edge of the World
From the moment your tour starts, your tour leader will give you full attention. Once in the car, your tour leader will talk to you about all the things on the way as well as other aspects of your tour that will interest you.
Travel out to the evocative dunes of the Red Sands where you will kick-start the Saudi Explorer tour. Red Sand Riyadh almost 80 Km from Riyadh. It's an area of red desert sand dunes in northeastern Riyadh, Saudi Arabia. The area known as Hidden Valley is surrounded by tall mountains which gives a valley look. Enjoy the only place in Riyadh where you can experience the Desert Safari by Quad Bike Around Red Sand experience.
After a picnic lunch, Your journey continues this afternoon through an Acacia studded desert towards the Jebel Fihrayn also known as Edge of the world. Standing atop the 1,000-foot high escarpment at Jabal Fihrayn, you find stretching before you an uninterrupted view of the horizon in all directions, leaving you with the impression that you are, indeed, standing at the very edge of the world. The effect on one's body and mind and soul is exhilarating. These cliffs rise dramatically from the desert, stretching toward the sky like a great natural wall. When you stand atop them and look toward the horizon, you have a prime view of the sky as it seems to melt into the barren earth.
The Edge of the World Saudi Arabia (Jebel Fihrayn) is an unexpected and dramatic geological wonder in the rocky desert northwest of Riyadh, Saudi Arabia. The site earned its nickname because from atop the escarpment, you have an uninterrupted view of the horizon. It's part of the much longer Tuwaiq Escarpment and drops down 1,000 feet into an ancient ocean bed. While standing on the cliffs, you'll spot dried rivers weaving across the land, and see camels moving far below. These camels and their herders are following a well-trodden path, as an ancient caravan route once passed within its shadow.
Travel in comfort back to your hotel, Riyadh has so much to see, feel, eat and buy so if you have time and want to add more to your itinerary – just let us know what you are interested in and we will arrange it for you.
(Optional ) Riyadh Food Tour, Start at 4:00 pm.
To enjoy the real taste of Saudi Arabia you have to try the original Saudi Arabian food Tour. Enjoy the best local food in Saudi Arabia which is one of life's great pleasures, Discover off-the-beaten-path spots the real Saudi Arabia that is not covered in any guidebook.
Meals: Breakfast & Lunch.
Day3: Kingdom Tower, National Museum. Riyadh, Fly to Tabuk
Enjoy a lovely breakfast at your hotel. Saudi Arabia Tours' tour leader will be waiting for you. Start the day with a photo-stop outside the landmark Kingdom Centre tower, the tallest building in the city which is located on the commercial strip in the Olaya district in Riyadh. This is the most famous tower in Riyadh. The shopping mall has lots of facilities and cafes to visit. Sky bridge Al Mamlaka at extra ticket a nice observation bridge where you can get a magnificent panoramic view of the city. It has a number of restaurants and shops.
Then visit Riyadh's historic Masmak Fortress that was famously captured by King Abdulaziz Ibn Saud during the Battle of Riyadh in January 1902. Next, proceed on foot to the Souq Al Zal, the city's oldest market, for a glimpse of traditional Saudi culture and some shopping. This afternoon, visit the National Museum for a crash course in Saudi history before driving to the airport and flying to Tabuk.
(Optional) Riyadh By Night Tour
Start your tour in Riyadh Winter Wonderland, you can see how Saudi locals men and women have fun. you would be surprised. Riyadh Winter Wonderland is held on an open space of 200,000 square meters and includes the largest skating rink in the Middle East. With celebrities attending from all over the world, the winter celebration offers several games, competitions, and performances, not mentioning the shopping opportunities and the exceptional gastronomic experience to be had at the many diners there.
Meals: Breakfast.
Day4: Wadi Tayyib Al Ism (hike), Springs of Moses, Midian
Enjoy a lovely breakfast at your hotel. Saudi Arabia Tours' tour leader will be waiting for you. Hike (90-min) through one of Saudi Arabia's great natural wonders this morning – the stunning of Wadi Tayyib Al Ism. Enjoy the majestic mountain views. On emerging through a narrow cleft in the mountain onto the shores of the Gulf of Aqaba you'll be driven along a cliff-girt coastline to the pretty town of Magna where the pools and palm trees of the Springs of Moses beautifully frame the deep blue sea beyond. The day then concludes by exploring the 2,000-year-old tombs of Maghaer Shuaib, which may be the necropolis of the biblical settlement of Midian.
The Maghaer Shuaib seems to appear from nowhere in the reddish desert west of Tabuk — its elegantly carved facades and tombs built into the sandstone rocks recalling Petra in Jordan and Hegra at Al Ula. Having fled Egypt, Moses lived here a decade under the patronage of the Prophet Shuaib, who had been impressed by Moses' chivalry and offered his daughter's hand in marriage. Moses eventually returned to Egypt, but it's easy to imagine that this beautiful place stayed with him.
Meals: Breakfast & Lunch.
Day5: Jabal Al Lawz & Wadi Bajdah
Enjoy a lovely breakfast at your hotel. Saudi Arabia Tours' tour leader will be waiting for you. Ascend the rocky slopes of Jabal Al-Lawz, one of the highest peaks in Saudi Arabia, and take in the fine views overlooking Tabuk Province. Jabal al-Lawz, also known as Gebel el-Lawz, is a mountain located in northwest Saudi Arabia. For a few days each winter, snow can cloak this mountain to create dramatic white Arabian panoramas. Mountains are then contrasted with desert this afternoon as you explore magnificent Wadi Rum on an off-road 4WD adventure that will take you across dunes and belts of blood-red sand and through a maze of the vast sandstone monoliths.
Meals: Breakfast & Lunch.
Day6: Wadi Al Disah, arrive Al Ula
Enjoy a lovely breakfast at your hotel. Saudi Arabia Tours' tour leader will be waiting for you. Leaving Tabuk behind you, We will take you to Wadi Al Disah is a mountainous area located in the southwest Province of Tabuk (260 km). Wadi Al Disah is a beautiful mountainous valley in Saudi Arabia's northwestern Tabuk province. Al Disah translates to "the valley of palm trees", and when you arrive here you'll see exactly why. The luscious valley floor is surrounded by massive sandstone cliffs and pillars that are perfect for exploration. The Al Disah Valley extends for some 15km and is framed by giant columns of rock and perpendicular smooth cliffs that rise up above the lush vegetation, water pools and palm trees. This beautiful spot for hiking and off-roading also contains several archaeological sites that include a Nabataean tomb. After an al fresco picnic lunch you'll drive on to Al Ula – the location of your desert camp.
Meals: Breakfast, Lunch & Dinner
Day7: Al Ula & Hegra
Enjoy a lovely breakfast at your hotel. An hour's walk in the cool morning air along with Elephant Rock, also known as Jabal AlFil, one of AlUla's many geological marvels. Enjoy Elephant Rock, This spectacular rock formation resembles an elephant with its trunk touching the ground, is one of Al Ula's geomorphological wonders became one of AlUla iconic landmarks. Then, drive on to the UNESCO World Heritage Site of Madain Saleh where you'll visit the old Hijaz Railway station and explore the magnificent tombs of the 'second Petra'. Madain Saleh tourist site was anciently known as Hegra or Al-Hijr, and was built by the Nabataean Arabs to protect their lucrative trade route with south Arabia. These fabulously situated tombs had been 'lost' to the world until their 'rediscovery' in 1876. After lunch on a date farm the day concludes with a thrilling 4WD safari through the fabulous Madakhil rocks.
Meals: Breakfast, Lunch & Dinner
Day8: Harrat Khaybar Volcanoes, arrive Medina.
Enjoy a lovely breakfast at your hotel. Saudi Arabia Tours' tour leader will be waiting for you. Today, discover another of Saudi Arabia's great natural wonders – the Harrat Khaybar. Harrat Khaybar, one of Saudi Arabia's largest volcanic fields, covers an area of more than 14,000 km2 north of Madinah (Medina). is complete with scoria, cones, lava domes, maars, and basalt lava flows. The white coloured volcanoes of Jabal Abiyadh and Jabal Baydah along with the nearby black cone of Jabal Qidr make an amazing spectacle. Walkers can follow a path to where the creamy lava from Jabal Baydah merges with the dark flows of Jabal Qidr and then make the short (30min) scramble up the slopes of Jabal Baydah for a wonderful overview of the unearthly landscape. After your visit continues to Medina.
Meals: Breakfast & Lunch.
Day9: Train to Jeddah
Enjoy a lovely breakfast at your hotel. Saudi Arabia Tours' tour leader will be waiting for you. Board a High-Speed train and travel to Jeddah on the Red Sea coast. On arrival, you'll met Saudi Arabia Tours' tour leader and set off to discover the 'Bride of the Red Sea'. This historic city has for centuries been the port for nearby Mecca. The afternoon's sightseeing will include Jeddah's beautiful modern seafront Corniche and its atmospheric UNESCO World Heritage listed district of Al Balad which is the historical area well known as the "Old Town", where many of the oldest families used to live and work. It boasts of old buildings, a traditional souk, and many restaurants, where visitors get to walk amid the old streets and experience the traditional landscape of the old town.
Meals: Breakfast & Lunch.
Day10: Farewell to Saudi Arabia
Enjoy a lovely breakfast at your hotel. Saudi Arabia Tours' tour leader will be waiting for you. Today a private transfer will bring to Jeddah International Airport where you will check-in for your onward flight. Farewell to Saudi Arabia!
Meals: Breakfast only.
Includes:
Accommodation as described.
All your tours and excursions are by an A/C vehicle.
English speaking tour leader/ driver.
Meals as listed in the itinerary (9 Breakfasts, 6 Lunches, 2 Dinners).
ATV experience at Red Sands (40 min).
Shared Dune Buggy Experience (2 hrs) in Al Ula.
Domestic flight in Economy Class (Riyadh/Tabuk).
Train ticket in Standard Class (Medina/Jeddah).
Sightseeing and entrances as per the itinerary.
Our prices include all taxes and services.
Excludes:
International Airfare.
Saudi Arabia entry visa. (We can provide you with your visa upon arrival at your request).
Any meals other than described in the itinerary.
Beverages or any drinks not referred to above.
Tipping
Important Note :
We accept all methods of secure payment: Visa, MasterCard, PayPal, direct bank transfer.
Kindly note that the hotel rating in Saudi is not the same as in USA or Europe, so Luxury or Ultimate Luxury hotel options are always recommended.
Accommodation Plan (A) 5 stars:
Riyadh: (Shaza Riyadh // Rosh Rayhaan by Rotana // Four Points By Sheraton Riyadh Khaldia)
Jeddah:(Prime Hotel – Jeddah, Al Hamra // Radisson Blu Hotel, Jeddah Al Salam // Sheraton Jeddah Hotel // Mövenpick Hotel Tahlia Jeddah )
| | | | |
| --- | --- | --- | --- |
| | 3 Stars | 4 Stars | 5 Stars |
| Price per person in DBL or TRPL Room | 4550$ | 4750$ | 6350$ |
| Solo traveler | 7580$ | 7900$ | 10460$ |
Accommodation Plan (B) Luxury (Sapphire Hotels):
Riyadh: Rosh Rayhaan – Classic room.
Tabuk: Grand Millennium Tabuk – Deluxe room.
Al Ula: Shaden MGallery – Superior room.
Medina: Hotel le Meridien Medina – High roof stander room.
Jeddah: interContinental – Deluxe room.
| | |
| --- | --- |
| | All year round |
| price per person in dbl room | 7300$ |
| Solo traveler | 11680$ |
Travel Insurance – from AIG
Secure your trip and give yourself greater peace of mind with the Travel Insurance program proposed by AIG for you. For more info visit www.aig.com
One week 50$ per person
More than one week 75 $ per person.
Saudi Sim Card
if you plan to get a Saudi sim card we would advise you to get it at the airport when you arrive. as it will be much easier to buy it from the airport other than anywhere else as they request more documents if you decide to buy it later from anywhere else.
Our Tour Leader/Driver
We don't only choose qualified and professional Tour leader/ Drivers but also choose those who are friendly, with a sense of humor who are committed to offering a superior level of service so you can enjoy your time with them.
How To dress
Both men and women are asked to dress modestly in public, avoiding tight-fitting clothing. Women should cover shoulders and knees in public.
Your passport
You should keep your passport with you during any tour you will be making in Saudi Arabia. don't leave it in your hotel room as some times they request to see your passport or visa.